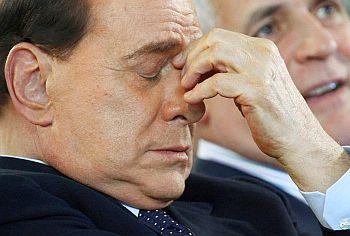 Italian Prime Minister Silvio Berlusconi has laughed off juicy allegations surrounding his private life by simply saying, 'I am no saint'.

The business tycoon's comments follow the online release of audiotapes, which purportedly reveal conversations between him and a prostitute, reports The Telegraph.

Berlusconi told an audience of business executives and politicians in northern Italy: 'There are a lot of pretty girls about. I am no saint but you know that. Let's hope that those working at Repubblica understand that, too (a jibe at the newspaper that has doggedly pursued the story).'

The Italian daily La Repubblica and its sister weekly, L'Espresso, published bits and bobs of the alleged bedroom conversation between Berlusconi and Patrizia D'Addario, the woman whom his aides describe as a prostitute.

D'Addario claims to have made the recordings during two visits that she made to Palazzo Grazioli, Berlusconi's Rome residence. The tapes have been presented as evidence to back her claims. In one, Berlusconi apparently tells D'Addario to wait for him on the four-poster 'Putin bed' -- said to have been a gift from Russian Prime Minister Vladimir Putin -- while they each take a shower.

Berlusconi is heard to say: "I will take a shower as well… and then wait for me on the big bed if you finish first?"
D'Addario replies: "Which bed… that Putin one?"
Berlusconi: "The Putin one."
D'Addario: "Oh how sweet, the one with the curtains."

In another tape, businessman Giampaolo Tarantini, 34, who is said to have recruited the women for the parties, apparently told the escort girl that Berlusconi does not wear a condom.

Later while speaking to a meeting of the executive of his People of Freedom Party, Berlusconi referred to the parties at his residences, and said it was 'not just showgirls who come to my house but heads of state too'.

'Guests at some of the parties have taken photos on their mobile phones that have since ended up in the papers, but phones were never confiscated because I have nothing to hide. As long as I am present, nothing inelegant can happen because I am a person of good taste, culture and elegance,' he said.
Image: Berlusconi gestures during a political party meeting in Milan
Photograph: Alessandro Garofalo/Reuters