Bereaved families of Sukma bravehearts have demanded justice and questioned the government inaction.
IMAGE: Daughter of CRPF martyr Sanjay Kumar wails during his funeral at his native village Chechain Nagri near Dharamsala on Tuesday. All Photographs: PTI Photo

It was only nine days ago when Surender Kumar was home on leave and had taken his wife and four-year-old daughter on a trip to the Golden Temple in Amritsar and Wagah border.
Today, his distraught family is struggling to come to terms with the news of his demise in the Sukma naxal attack on Monday, clueless as they are about their lives without him.
Surender was among the 25 Central Reserve Police Force personnel who were in the Maoist ambush in Chhattisgarh's Sukma, one of the deadliest in years.
Pushpraag Thakur, who learnt of his brother-in-law's death at 5.45 am on Tuesday, said he was proud of Surender's martyrdom, but had no expectations from the government.
"We have no expectations from the government because we know that they will do nothing. They will bring in no new initiatives for the CRPF personnel or those in the army. I would like to question our defence minister and our prime minister that for how long this will continue.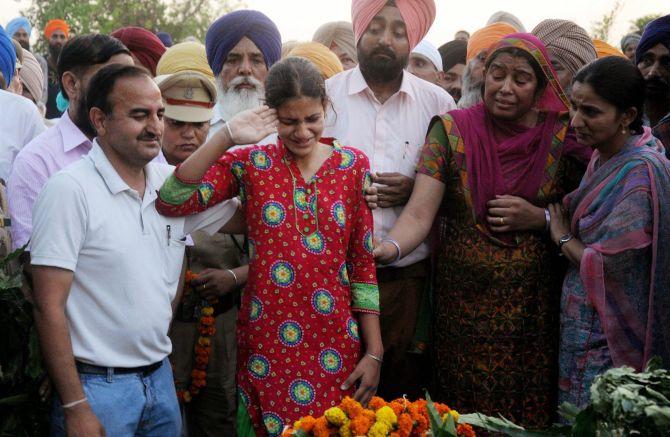 IMAGE: Daughter of CRPF martyr Inspector Raghbir Singh salutes her father during his funeral in village Sathiala near Amritsar.
"My brother-in-law and 24 other men died, but nobody is affected. All they do is put a garland on the martyrs' photos to be in the news. My brother-in-law has given his life for the country and I am proud of him, but why do we never see a minister's son becoming a martyr on the border?" Pushpraag said.
Surender was the sole earning member in the family that lives in a three-room house in Mandi district of Himachal Pradesh.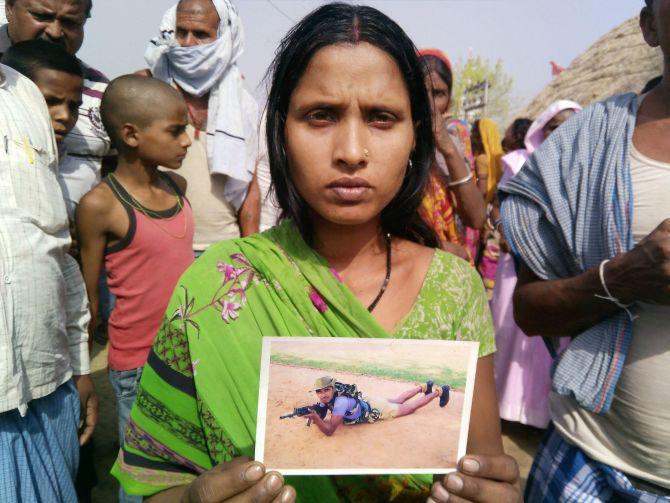 IMAGE: Sunita Devi, wife of martyred CRPF jawan Ranjeet Kumar, shows his photograph in Sheikhpura.
A phone call to Sanjay Kumar's home in Palampur, also in Himachal Pradesh, elicited wails of his inconsolable elder daughter who demanded nothing but justice for her father.
"Papa ko justice dilao.. papa ki kya galti thi (Do justice to my father, what was his fault)?" was all that was to be heard from the distressed daughter.
Sanjay's elder brother, Vijay Sharma said he was proud of his sacrifice but his voice mirrored Pushpraag's hopelessness and lack of trust in the government.
"They say they will avenge the killings, but these are hollow words. They will forget everything in 10 days," Vijay said.
IMAGE: Wife of of CRPF martyr Surender Thakur mourns during his funeral at his native village Ner Chowk in Mandi, Himachal Pradesh.
In Kamarajar colony in Needamangalam town of Tamil Nadu, Sendhil Kumar has left behind a hapless mother, a distraught wife and an eight-year-old son.
"I want my husband...I only want my husband back," his wife Vidhya said.
The father of Saurabh Kumar from Danapur in Bihar is proud of his son and all others who 'fought bravely'.
"Yes, I am sad and hurt because he was my eldest son. He also has a 7-month-old baby. But, what can we do? This was decided by the almighty," he said.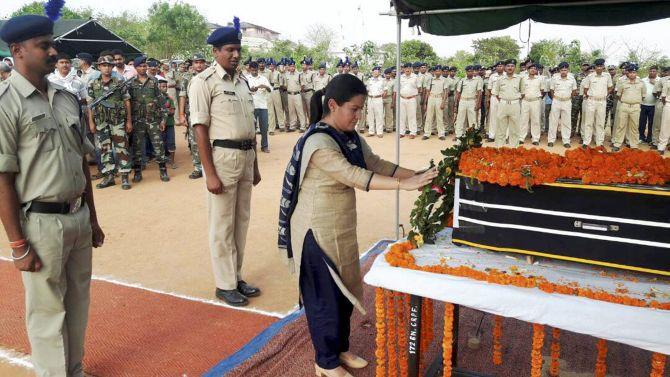 IMAGE: District Magistrate Neha Arora pays floral tribute to CRPF jawan Ashish Kumar Singh in Garhwa, Jharkhand.
However, he also insisted that the Naxal problem be resolved with compassion, and one must resort to violence only when everything else has failed.
"The government's stand is not clear on this issue. Either they should talk to Naxals and bring them to the mainstream, or they must do whatever they did in Punjab and Sri Lanka...what happened to Veerappan must be done to the Naxals.
IMAGE: A CRPF officer consoles Baljit Kaur, wife of slain CRPF Inspector Raghbir Singh at their village Sathiala near Amritsar.

"Par pyaar se bahut kuchh jeeta ja sakta hai (But a lot can be won with love). Violence must be the last option," he said.
Meanwhile, there is hope for the family of constable Sher Mohammad, hailing from Bulandshahr in Uttar Pradesh. He was wounded in the encounter that followed the ambush and is recuperating in a hospital.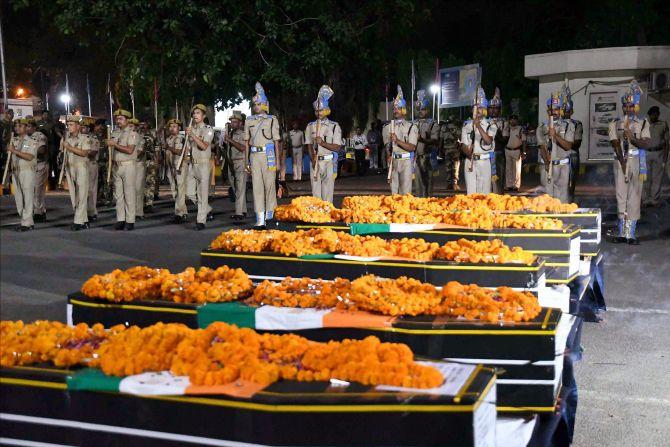 IMAGE: Jawans give gun salute to the martyred CRPF personnel at Patna airport.
"My son killed five Naxalites and was injured. Now, he is in hospital. I am proud of my son. He has done a brave job. I am praying to Allah that my son can meet me in a good state. Every villager is praying for him. He has been a good son," Mohammad's mother said.
Death of my husband should be avenged", said a tear eyed wife of CRPF jawan Banmali.
With a year-and-a-half-old daughter in her lap, Banmali's widow Jiteshwari has nothing to say but all she wants is justice.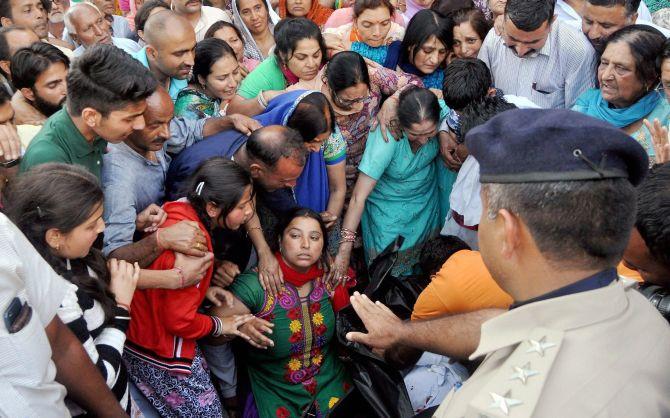 IMAGE: Wife, daughters and family members of CRPF martyr Sanjay Kumar during his funeral at his native village Chechain Nagri near Dharamsala.

"Death of my husband should be avenged. Who will do it I don't know, but justice should be done," she said.
Banmali's father, who is utterly shocked with the news of demise of his son, recalls their last conversation.
"I spoke with Banmali three days back. He was going to apply for leave but then this happened. He has a year and half old daughter. I have nothing to say," said Ratha Ram.
A similar gloomy scene can be witnessed in Sikar village of Rajasthan post the killing of local hero and CRPF jawan Banna Ram.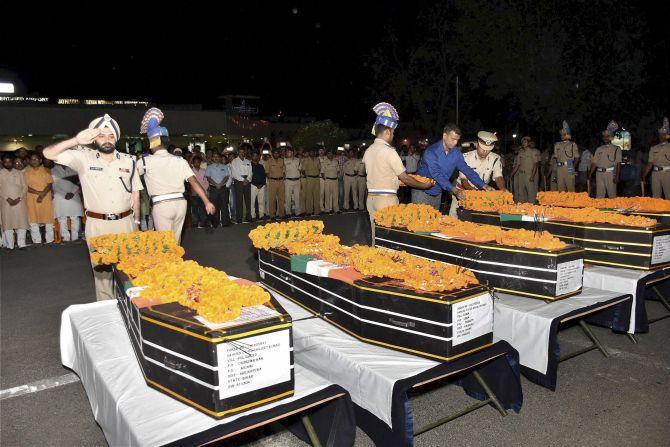 IMAGE: CRPF officers pay tributes to slain jawans in Patna.
Slain Raghbir Singh's aggravated family and friends question the intelligence failure and government inaction.
"He was a great man. All of us are shocked. I would like to ask, what were the intelligence people doing? Sleeping? I have never seen that such attacks are ever answered by the government," Raghbir's childhood friend Vikram Singh said.
"The government is not doing anything. They should take steps in the regard," said the sister-in-law of Raghbir.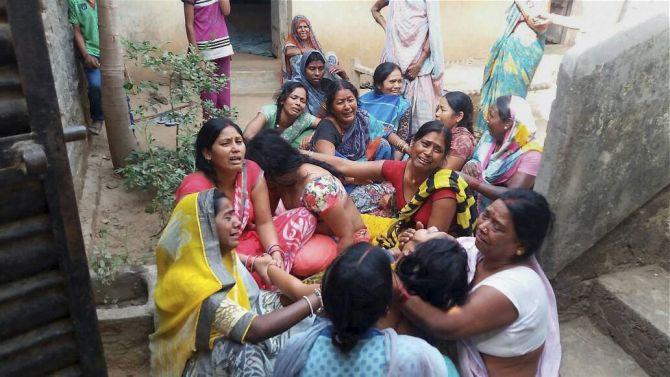 IMAGE:

Family members and relatives mourn the death of CRPF jawan Ashish Kumar Singh in Garhwa, Jharkhand.



Holding his head high, Martyr Saurabh Kumar's father said, "Saddened, but at the same time feeling very proud. Not only my son, but many others made this sacrifice."
Earlier in the day, Union Home Minister Rajnath Singh said the government has taken as a challenge the killing of CRPF personnel and vowed that no one will be spared.
He said that the Centre and state government would work together to ensure that the perpetrators are brought to book.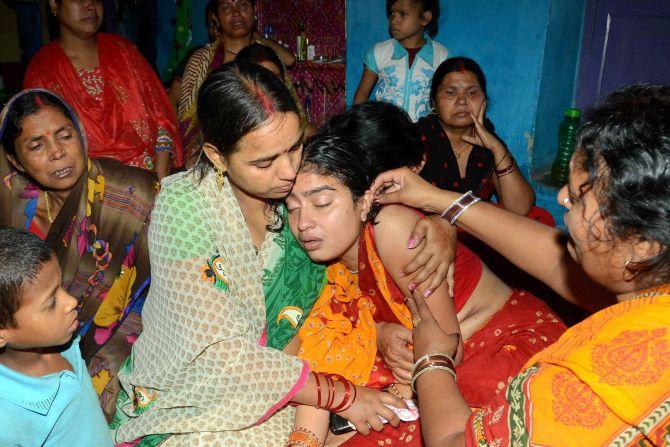 IMAGE: Family members and relatives mourn the death of CRPF jawan Saurabh Kumar at Danapur Cantt in Danapur.
Singh, who paid homage to the jawans during a wreath laying ceremony in Raipur along with his deputy Hansraj Ahir and Chhattisgarh Chief Minister Raman Singh, described the attack as cowardly and unfortunate act exposes desperation and frustration.
"It is a cold blooded murder by the extremists. The Centre and state governments will work together and take action in this regard," Rajnath told a joint press briefing with the chief minister.
The Chhattisgarh chief minister has called for concrete strategy to counter such attacks, while expressing grief over the death of jawans.
"It's high time that we need to adopt some strategies to counter such attacks in future. I offer my condolence to the families of deceased jawans," Raman said.
With inputs from ANI.
© Copyright 2023 PTI. All rights reserved. Republication or redistribution of PTI content, including by framing or similar means, is expressly prohibited without the prior written consent.