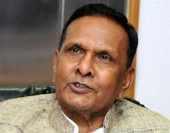 Union Minister Beni Prasad Varma on Monday continued to target Samajwadi Party supremo Mulayam Singh Yadav, this time apparently over the latter's praise for L K Advani. The Congress leader said that Yadav, whose party does not stick to the principles of truth, cannot be honest.
Beni's fresh remarks came two days after Mulayam referred to Advani's comments on law and order in Uttar Pradesh, seeking an improvement in governance saying Advani is a person who "never lies."
"Advani sahab says UP is in a very bad state and corruption is rampant.... Now, I have to assess the situation when a senior leader like Advani says such a thing. He never lies. He always speaks the truth, as I have said many times.... I'll go and meet him again," Mulayam had said in Lucknow on March 23.
Without taking any name, Beni questioned, "How can a leader, whose party never sticks to the truth, can never lie?" He further said that the statement points towards the political equations which may emerge in the time to come. He admitted that scams did take place during the United Progressive Alliance rule, but added that those who were involved, have been sent behind bars.