Image: A file photo of Bhavani Bala, the victim of the low intensity blast which occurred on Sunday night at Church street in Bengaluru. Photograph: PTI

Bhavani Balan's kids are inconsolable. Their Christmas vacation had just been blown to smithereens by someone blinded by radical venom.

Bhavani, 37, succumbed to head injuries sustained in a low-intensity blast outside the Kerala-themed Coconut Groove restaurant on Church Street in the heart of Bengaluru on Sunday evening.

The blast caused serious injuries to the left side of her skull, resulting in excessive blleding. Despite doctors at the Mallya Hospital trying their best to revive her, Bhavani's heart rate kept dropping and eventually around 11am she was pronounced dead.

Her two children, Lakshmi Thevi, 11, and Bharath, 15, had a miraculous escape.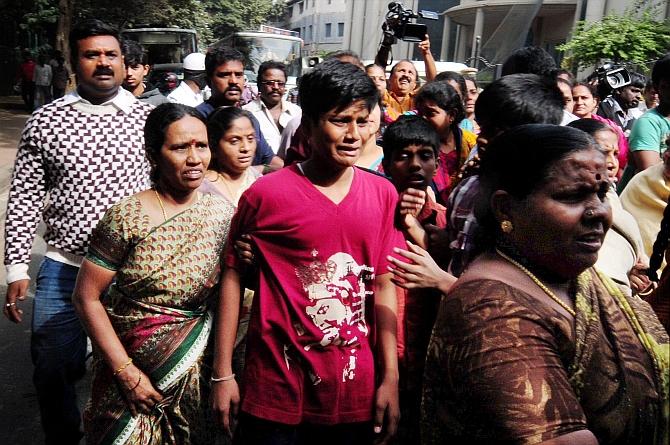 Image: Family members of Bhavani Bala, the deceased in the Bengaluru blast, mourn outside a hospital. Photograph: PTI

According to media reports, Bhavani and her children were in Bengaluru to visit relatives of her husband, a scrap material businessman based in Chennai, for the holiday season. She was to return home on Sunday but had to extend her stay after she failed to get train tickets.

The bomb was placed near the pots kept on the footpath. At 8:38 pm, Bhavani and her cousin Karthik, 23, were heading towards Hotel Empire for dinner after visiting the Amoeba Bowling Alley when the blast went off.

Both were thrown off into the road.

"It didn't take much time to realise that it was a bomb blast," an eyewitness told the Deccan Chronicle, adding, "When we saw a woman bleeding profusely, it was clear. But unfortunately many didn't go near her to help her. They were probably thinking she was a suicide bomber."

Then, Narasimha, an auto-rickshaw driver, rose to the occasion and ferried Bhavani to Mallya Hospital.

He later told media persons, "The lady's head was covered with her clothes when we left. She had sustained serious injuries and was bleeding behind the ear."

In a statement, Dr Kanchan Sanyal, medical superintendent of Mallya Hospital said, "We had a look at the injuries that Bhavani had sustained. She was injured in her head due to a shrapnel. Her brain tissue was exposed, which resulted in excessive bleeding. Despite many attempts, we couldn't save her as the bleeding was too much."

Karthik, an MBA student at the Dayananda Sagar College and resident of Mavalli near Lalbagh, injured his shoulder and is undergoing treatment at Mallya Hospital.