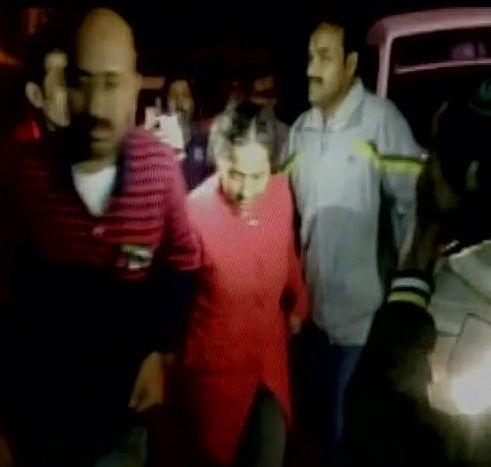 The Bharatiya Janata Party on Wednesday denied that any of its leaders were involved in child trafficking and termed it a "conspiracy" after the party's women's wing leader Juhi Chowdhury was arrested in connection with the case.
The CID arrested Chowdhury on Tuesday night from Batasia area in north West Bengal, close to the Indo-Nepal border, for her alleged involvement in the child trafficking case.
Reacting to the arrest, the party's state chief Dilip Ghosh accused the CID of acting as a wing of the ruling TMC.
"It seems a conspiracy has been hatched by the TMC government to malign our party leaders. The CID is working as a party wing of TMC," he said.
However, the BJP on Wednesday removed Chowdhury from all party posts following her arrest.
"We have removed her from all party posts, as allegations have been raised against her. But she will remain a party worker. We will provide her legal help if needed," Ghosh said.
With Chowdhury's arrest, four persons have been arrested so far for their alleged involvement in selling of babies and children in India and abroad in the last few months from an NGO 'Bimala Sishu Griho'.
Sonali Mondal, Chief Adoption Officer of the NGO, Chandana Chakraborty, its chairperson, and Chandana's brother Manas Bhowmik, were arrested by a seven-member CID team.
Chandana, the main accused, alleged that she had been introduced to BJP leaders Kailash Vijayvargiya and Roopa Ganguly through Chowdhury.
She further alleged yesterday that it was through her that she she had come into contact with some central government ministers and bureaucrats.
When contacted, Vijayvargiya called the allegations as completely baseless and said "the CID in West Bengal has turned into the conspiracy invention department of TMC. Let there be an investigation by a central investigating agency. Truth will come out".
Ganguly had refuted the allegations of her involvement, calling them as "baseless, fabricated and malicious".
She said that the allegations were made only to frame her.
Meanwhile, Chowdhury also alleged that she had been framed in the child trafficking scandal.
Speaking to reporters during her transit from the Matigara police station, where she was held overnight after her arrest, to a local court, she said that a political conspiracy had been hatched against her.
Chowdhury said that the investigation would bring out the truth whether she was involved in the racket.
Photograph: ANI