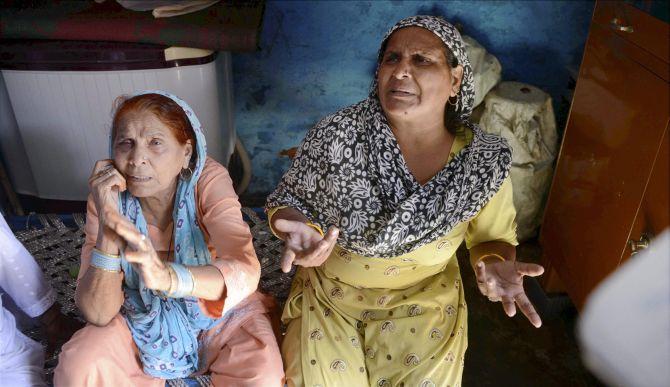 A group of Bishada villagers on Thursday moved court seeking filing of a police complaint for alleged cow slaughter against family members of Mohammad Akhlaq, who was lynched nine months ago on suspicion that his family stored and ate beef at their house.
"Bishada residents today gave an application to the Chief Judicial Magistrate of Gautam Budh Nagar under Section 156(3) of CrPC with a request to direct the police to lodge an FIR against Akhlaq's family members," a Senior Prosecution Officer said.
Section 156(3) empowers a magistrate to order an FIR and consequent investigation by the police against those named in the complaint.
The court will hear the matter on June 13, he said.
"Akhlaq's family members will be given the opportunity to submit their reply and then the court will decide whether there is need for directing police to lodge FIR," he said.
Tension returned on June 6 nearly nine months after 50-year-old Akhlaq was lynched following rumours that his family stored and ate beef at their house.
Rival parties also traded charges as the village became a political battleground ahead of next year's assembly polls in Uttar Pradesh.
After the report surfaced, a section of Bishada residents, at a mahapanchayat in Bishada last week, had also approached the police, urging them to register an FIR against Akhlaq's family for allegedly killing a cow and consuming beef.
"Villagers gave 20 days to the administration to investigate and lodge the FIR against the Akhlaq family members. However we are moving the court on Wednesday under section 156(3) requesting court to issue directions to the police to lodge FIR against the Akhlaq's family as forensic report has confirmed it was beef," said Sanjay Rana, father of one of the accused Vishal Rana.
BJP President Amit Shah rejected allegations by rival parties that the party was raking up the Dadri issue to communalise the upcoming elections.
"If it is so they should expose it. Whose government is here, who controls lab and police. How can you blame the BJP," he told reporters in Lucknow.