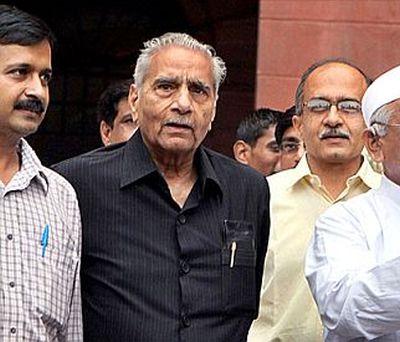 Aam Aadmi Party founder-member Shanti Bhushan has created a flutter by praising Kiran Bedi and calling Bharatiya Janata Party's move to field her as a "masterstroke" while claiming "everything is not right" in AAP.
The AAP, however, claimed that Bhushan's remarks showed there was "inner democracy" in the party and said the views expressed by him were "personal".
Bhushan, a senior Supreme Court lawyer, also said that if Bedi becomes the chief minister, Anna Hazare would be very happy and termed her role in the Hazare-led anti-corruption movement as "influential".
"Kiran Bedi's joining BJP is a masterstroke of BJP. I feel to bring her into the part and making her the CM nominee was a masterstroke because Bedi in Anna's movement was with (Arvind) Kejriwal and Prashant (Bhushan) and her contribution there was influential as a crusader of corruption," Bhushan said.
Asked about his remarks, Kiran Bedi simply thanked Bhushan and refused to comment further.
Bhushan also called for a "reorientation" within AAP saying all was not well in the party and it was not being run following its founding principles.
"Reorientation within AAP is very much needed. Their stress must be on reforming political system, improving political standards. I think everything is not right in the party and it is not being run on lines it was expected to run or what it was established for," he said.
His comments evoked cautious reaction from AAP.
"We have an internal Lokpal within the party that only recently took a decision to replace two candidates. His comments go on to prove that the party has internal democracy," Kejriwal said.
The party's Delhi convener Ashutosh said said Bhushan is entitled to his views and they have no party endorsement.
"He's a senior member and he has the right to have his opinion. We don't subscribe or endorse his views," he said.
"The party he (Bhushan) criticised as the most corrupt party and appealed to people that they should not vote for it as it does not want to come under RTI and she joins the same party... it shows that it is an iconic political somersault and opportunism on her behalf," he said.
This is not the first time Bhushan has been critical of AAP as he has raised questions on Kejriwal's organisational abilities and internal democracy in the party in the past as well.
Image: Aam Aadmi Party founder-member Shanti Bhushan with Arvind Kejriwal and Prashant Bhushan.