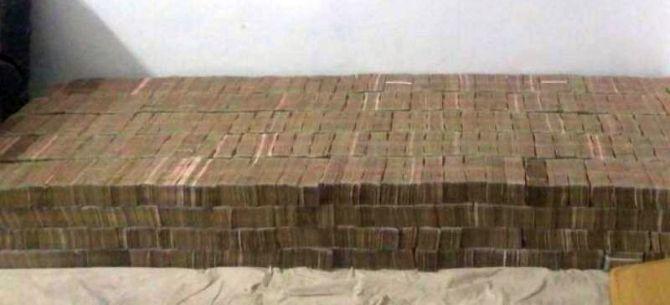 As many as 16 people, including a noted builder, were arrested in connection with the seizure of over Rs 97 crore in demonetised currency notes from the builder's ancestral house in Kanpur.
The Uttar Pradesh government said prima facie no terror link had been established.
"In Kanpur, raids are going on at various places and till noon Rs 97 crore in old currency notes have been recovered. More old currency notes may be found and more arrests are likely on the basis of interrogation," principal secretary (Home) Arvind Kumar told reporters in Lucknow.
To a question as to whether there could be any terror link, Kumar said, "Prima facie, there is no terror link."
The Centre had banned currency notes in the denomination of Rs 500 and Rs 1,000 in November, 2016 to flush out black money, eliminate fake notes and stop terror-funding.
Senior Superintendent of Police of Kanpur Akhilesh Kumar Meena said Rs 95 crore belonged to Anand Khatri, the builder, and over a dozen others owned the remaining amount. They were arrested along with the builder.
Meena said the National Investigation Agency had gathered inputs about some companies and individuals involved in converting illegal currency into legal money and shared the information with Inspector General of Police, Kanpur, Alok Singh.
The IG collected more information about those running the money conversion racket and briefed the SSP Kanpur, directing him to carry out raids discreetly.
Following a tip-off, the SSP Kanpur formed several teams headed by SP (East) Anurag Arya and SP (West) Gaurav Grover.
They nabbed four men involved in conversion of illegal money from the Swaroop Nagar area.
Initially they tried to mislead police, but later during intensive interrogation they broke down and confessed their crime, SSP Kanpur said.
They divulged information about the builder involved in converting black money into white by exchanging the old currency notes.
It was revealed that a huge amount of demonetised currency was stored in gunny bags in the builder's ancestral house near Gole Chauraha in Swaroop Nagar.
Police later nabbed the builder, who led the team to the site where the currency was stashed, said SP (East) Anurag Arya.
Police also raided three hotels from where 11 people including Santosh Yadav, a professor, were arrested, he said.
Preliminary probe indicated that the cash was hidden with an intention of converting it into legal currency, the SP said, but he too discounted the possibility of any terror
angle.
The arrested were identified as Anand Khatri, builder, Santosh Yadav, professor, key liasioner Mohit Dhingra, Sanjay Agarwal, Manish Agarwal - all residents of Kanpur, Koteshwar Rao from Andhra Pardesh, Sanjay Kumar from Varanasi and Anil Yadav from Saharanpur.
Others arrested were Santosh Pathak and Sanjay Rai — both from Mirzapur, Ram Asrey, Dhirendra, Sanjeev Agarwal, Omkar Yadav, Ali Husain, and a woman from Andhar Pardesh, whose identity was not immediately known.
Photograph: ANI/Twitter