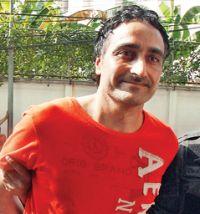 A special court in Chandigarh on Saturday awarded life imprisonment to Jagtar Singh Tara in connection with assassination of former Punjab chief minister Beant Singh.
The court of Additional District and Session Judge J S Sidhu pronounced the sentence in the high security Burail jail where Tara is currently lodged, Tara's counsel Simranjit Singh said.
A fine of Rs 35,000 was also imposed on Tara by the court, he said.
The lawyer said his client would not challenge the order in the higher court.
He said the CBI counsel had pressed for capital punishment for Tara.
Tara, 43, had been booked under various sections of IPC, including section 302 (murder), section 307 (attempt to murder) and section 120 B (criminal conspiracy) and other relevant sections of the Explosive Act.
He had confessed to his involvement in the assassination of Beant Singh in 1995, in a confession letter which he had submitted to the court in January this year.
On August 31, 1995, then chief minister Beant Singh was killed in an explosion outside the Civil Secretariat in Chandigarh. Sixteen others also lost their lives in the incident. Punjab police employee Dilawar Singh had acted as a human bomb in the incident.
Tara was arrested in September, 1995 in Delhi. However, he and two other accused escaped from Burail jail during the trial of the case in 2004.
He was later arrested from Thailand in 2015.
Meanwhile, tight security arrangements were made by Chandigarh police outside Burail jail in the wake of Tara's sentencing.
Several supporters of Tara, including SAD-Amritsar chief Simranjit Singh Mann, were present outside the jail.