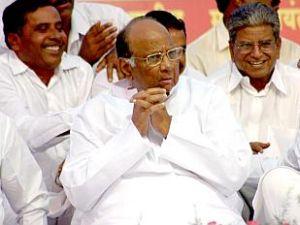 Nationalist Congress Party president Sharad Pawar has asked his party workers to be prepared for snap polls in Maharashtra considering the political situation after the recent state Assembly elections.
"Having a stable government in Maharashtra isn't NCP's responsibility," said Pawar, whose party offered unconditional outside support to BJP the day election results were declared.
Pawar also alleged that some elements in BJP were behind the rise of Majlis-e-Ittehadul Muslimeen party which won two seats in the recent state Assembly polls.
BJP has 121, Shiv Sena 63, Congress 42 and NCP 41 MLAs in the 288-member Assembly.
State Chief Minister Devendra Fadnavis had won a controversial confidence vote last week after NCP declared outside support to his minority government.
As the confidence motion was passed by a voice vote, there was an uproar by Sena and Congress, with the two parties petitioning Governor C Vidyasagar Rao to direct the government to seek a fresh vote in which its strength be determined through division of votes.
NCP Legislature Party leader and former Deputy Chief Minister Ajit Pawar, too, disapproved of the manner in which the motion was passed by voice vote.
Sharad Pawar had earlier said he cannot guarantee the survival of the BJP government for its full 5-year term.
"My view is that very important elements of BJP are giving boost to MIM," Pawar said.
"The present situation in Maharashtra is not of long term political stability," he said, adding "It is not the responsibility of NCP to keep the government in Maharashtra stable."
Referring to the President's Rule which was in force in the state ahead of the Assembly polls, the NCP chief said such a scenario can recur if the government is not stable.
"If the political instability continues, then in 4 to 6 months the state may have to face polls and that will not be good for Maharashtra," he said.
"The present situation is not good for the long term. If this situation deteriorates, we may face polls," he said.
"If the ruling party is not able to govern, they also can think otherwise. I have no idea if they have the courage to do so," Pawar said.
In this situation, our responsibility is to strengthen the party and remove shortcomings, the NCP leader said.
"I have no idea when we will have to face people so we have to be prepared to face snap polls any time," he said.
"During the poll campaign, Narendra Modi used language which was not befitting the stature of prime minister," Pawar said.
A certain decorum was earlier maintained by other leaders, but that was not the case in the recent polls, he said.
"During the trust vote in Maharashtra Assembly, NCP did not vote either for or against the government but remained neutral," he clarified.
Meanwhile, Shiv Sena attacked Pawar over his statement about snap polls, saying such a thing was not likely to happen.
Sena spokesperson Sanjay Raut said, "Pawar should read his own recent statement."
"While announcing support to BJP after poll results, Pawar had said he was giving support to ensure a stable government," Raut said.
"I am sure there won't be a re-election in Maharashtra," he said.
"The Shiv Sena has the 'keys' to keep the government stable or unstable," he added.