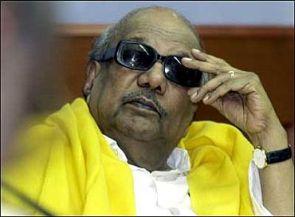 Dravida Munnetra Kazhagam chief M Karunanidhi on Monday mounted a blistering attack on the Tamil Nadu government over its opposition to the Rs 2,400 crore Sethusamudram project and asked his partymen to be prepared to sacrifice their lives for its implementation.
"It is a livelihood issue...not a canal issue. If this project is not implemented, posterity will curse us. The reason I am underlining this issue is it was one of the dream projects of (DMK founder and former chief minister) C N Annadurai," he said, addressing cadres at the party's administrative council meeting in Chennai.
"It is painful to see the steps taken by the ruling (AIADMK) government to demolish this project. There may be many issues with the present government, but we cannot allow the steps being taken by Jayalalithaa (to abolish this project)," he said.
"Transportation plays a significant role in development of a country. It is because of projects like Sethusamudram, a state becomes rich in its natural resources. We should take it (the value of such projects) to the people," he said.
Noting that the July 8 state-wide agitation is just a start of a series of protests on the issue, he said, "I appeal to you to unite and through these agitations we should convey our feelings to the people."
"Even at the last stage, if there is a necessity to sacrifice our lives, we should be prepared for it," he said.
Later, speaking to reporters, on the party's winning prospects in the June 27 Rajya Sabha elections, he said the party is contesting the polls with a hope of winning it.
The party has fielded Karunanidhi's daughter and sitting MP Kanimozhi to contest the Rajya Sabha polls for the second time.