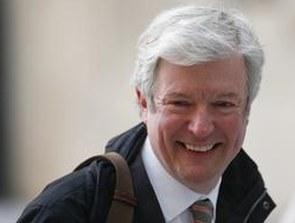 The chief of the BBC has reportedly received death threats after his decision to sack the network's popular motoring-show host Jeremy Clarkson, forcing the Scotland Yard to investigate the claims.
The metropolitan police said they were investigating the alleged death threats made to director-general Tony Hall by email on Wednesday.
Hall had announced that the contract of popular 'Top Gear' presenter Jeremy Clarkson with the network would not be renewed after he was involved in an alleged brawl with a producer.
"The police in Westminster are investigating an allegation of threats to kill. The allegation was reported to police on Wednesday, March 25," a police spokesperson said.
"The threat was made by email. Enquiries continue to establish from where the email was sent, although the content of the message suggests from outside the United Kingdom. No arrests have been made," the spokesperson added.
A BBC spokesperson said: "We wouldn't comment on security matters."
Hall announced his decision not to renew Clarkson's contract after an internal inquiry found the presenter had subjected producer Oisin Tymon to an 'unprovoked physical and
verbal attack' at a hotel while shooting a series of 'Top Gear'-- the world's most popular factual TV programme, with 350 million viewers a week in 170 countries.
Tymon, who suffered a split lip, did not file a formal complaint and it is understood Clarkson reported himself to BBC bosses following the incident, and was suspended.
The row, which took place on March 4, was said to have occurred because no hot food was provided following a day's filming.
Hall said he had not taken his decision lightly, but insisted 'a line has been crossed'.
More than a million people signed an online petition to reinstate Clarkson.
Tymon, who previously described Clarkson as a 'unique talent', has himself come under sustained abuse on social media for his involvement in the dispute.
Meanwhile, it remains unclear as to who will take over at Top Gear. Co-hosts James May, 52, and Richard Hammond, 45, have not announced if they will stay at the show or not, but have hinted that they will follow Clarkson out of the BBC.
The 54-year-old TV personality has survived a string of controversies over the years, including making offensive remarks about Indians during shooting a 'Top Gear' 90-minute Christmas special back in December 2011.
During the show, Clarkson built a toilet into the back of a Jaguar claiming it would be 'perfect' for tourists because 'everyone' who visits the country suffers diarrhoea.
© Copyright 2022 PTI. All rights reserved. Republication or redistribution of PTI content, including by framing or similar means, is expressly prohibited without the prior written consent.