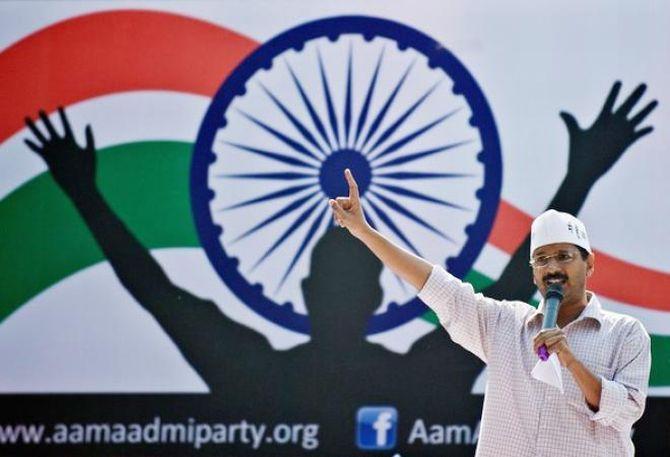 Image: AAP chief Arvind Kejriwal campaigns in New Delhi

Social media teams of the Aam Aadmi Party, Bharatiya Janata Party and Congress are working overtime to engage with the voter and to set the agenda in the online space, reports Upasna Pandey/Rediff.com.
It may not have generated the kind of buzz witnessed during the 2014 Lok Sabha elections but politics and the Delhi Vidhan Sabha elections once again dominates the discourse on social media.
While the Bharatiya Janata Party seems to have gone off the boil, the Aam Aadmi Party seems to have gained momentum and the Congress party attempts to draw some traction.
Away from the physical grind of nukkad meetings, jansabhas, road shows, fund-raising events and door-to-door canvassing, are fast-paced, well-packaged, crisp political messages to voters, in text, graphic and video on social media platforms like Facebook, twitter, whatsapp and YouTube.
Upasna Pandey/Rediff.com spoke with the teams managing social media for the AAP, BJP and Congress to get an overview.
Avinav, who manages AAP's national and Delhi Facebook page, says the election campaign strategy is to explain the 'what', 'why' and 'how' of key issues that matter to the Delhi voters.
"We have identified around 50 muddes (issues) that affect the voters in Delhi, and then approach the content with what AAP will deliver on each, how it will work and why Delhi needs it. There are sensible conversations happening on the AAP page, unlike other political party pages, where it is mostly limited to abusive content and rhetoric.
"For content, we simply follow the line used by the party's leaders or spokesperson, so there is consistency," says Avinav.
Ankit Lal, social media coordinator for AAP, says "Twitter followers are aware of facts and you cannot fool them with wrong information or data. There are instant checks and dismissals. AAP is managing to draw people and convince them."
"If BJP says they will slash electricity bills, there will be comments that this was an AAP idea, which means people are aware of the facts," says Lal.
The AAP team believes the 'clash of personalities' of their party chief Arvind Kejriwal and BJP's chief ministerial candidate Kiran Bedi will dominate the online campaign in the coming days. But the emphasis is to have a dialogue on issues to engage better with the voters.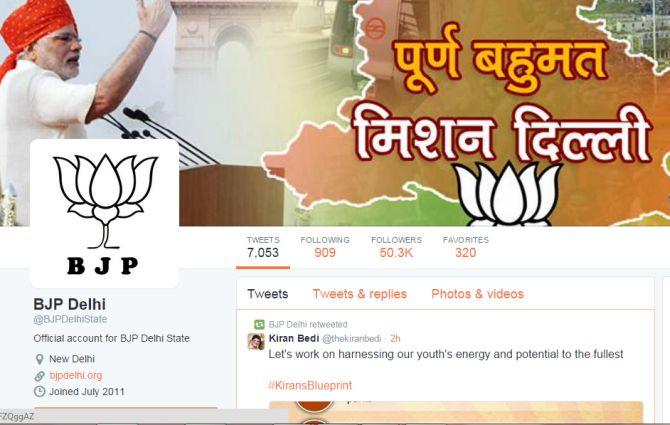 Image: The BJP Delhi's Twitter page

Prime Minister Narendra Modi's clothes are a trending topic on social media, while another section has been talking about President Obama's comments on India's showcase of women empowerment on Republic Day, says Akhilesh Mishra, a content team member and part of the BJP's digital social media strategy for the Delhi polls.
"We will not resort to politics of being drawn into responding to controversies raised by AAP, we will focus on issues," says Mishra.
Mishra claims that the BJP's Twitter followers are over 1.28 million while the party's FB page has over seven million. "The Delhi poll campaign is focused on the performance of the BJP government at the Centre and what we promise to deliver if elected to power."
He is confident that the BJP will get a majority in Delhi, as he believes the strong online support and dialogue will translate into votes for the party. "Every election is different and we have announced our CM candidate in Delhi unlike other states. We have been ahead of our opponents in the Lok Sabha elections, but I agree that this election is going see a closer fight than Maharashtra."
Talking about the face-off between Kejriwal and Bedi, Akhilesh argues that "Kejriwal will keep trying to personalise the campaign but he has run out of gimmicks and the voters can see it. Modiji has been innovating his messaging in every speech. The country's mood has moved on with him while AAP is still stuck with its 49-day work."
"'I support Namo' has the highest number of followers on Facebook, and we believe that we are covering all voters in Delhi through FB or Twitter," he adds.
The BJP team insists they have an edge in the social media space as the party was an early entrant, since 2009, and they can 'set the agenda everyday'.
"Twitter draws serious, thought-provoking dialogue while FB has all the voters. We are using PM Narendra Modi's speeches for creating text, video clips and graphic messages," shares Mishra.
The 'selfie with Modi' campaign launched recently, and the 'dial-in' to listen to Modi's speeches, launched during the Lok Sabha elections last year, are services that form part of the BJP's campaign.
The Congress's social media team is also putting its best foot forward but with a difference.
"Unlike BJP or AAP, which bombards the users with messages and posts, we are sharing messages only with users who have voluntarily sought to be included. We have around five posts everyday on FB. These include one post on any important jayanti or commemoration of the day, two posts that are from the All India Congress Committee released booklets on U-turn Kejriwal' and U- turn BJP'. We also carry posts from the campaigns of at least seven-eight candidates every day. One post talks about any major election rally, road show etc," says Radhika Khera, chairperson of the Delhi Pradesh Congress Committee's IT cell.
Interestingly, on the issue of higher number of 'paid volunteers' as against 'genuine followers', all political parties seem to have a consensus.
Social media teams of the AAP, BJP and Congress share that there are limited-member core teams that handle official party profiles on Twitter and Facebook pages, apart from the core team which creates video clips etc, but the maximum dialogue is garnered by volunteers and sympathisers who are not paid for the job.
Ankit Lal cites an example of how one AAP sympathiser posted that Manish Sisodia (AAP leader) was likely to win in Patparganj area with ward-wise details and even predicted his vote share. "This could have only been posted by someone who lives in the area and not outsiders."
The Facebook and Twitter accounts of the three political parties have witnessed focused conversations and dialogue on issues such as health, civic amenities, education, in addition to the criticism and praise for the party's CM candidates.
Lal says that after the 2014 general elections there was a period of disenchantment with the AAP among social media users, and "we had to seed in the idea that AAP is here to stay and we have been successful in convincing people on this."
He says the key to a successful campaign on social media lies not only in creating meaningful content but also staying alert and ahead everyday.
"AAP tries to be the first on everything. For instance, we were the first to condole the passing away of R K Laxman. We pick the issue of the day and get to ride the trend," he adds.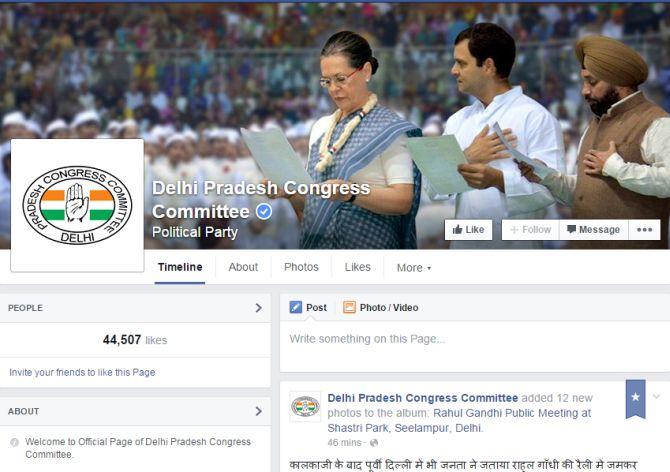 Image: The Delhi Pradesh Congress Committee's Facebook page

WhatsApp too is being used aggressively by all the three parties for spreading key election messages.
"WhatsApp is being used to reach people not active on social media. For those who are not on the internet, dial-in, SMS and direct content in the form of pamphlets created out of messages on social media is being distributed by BJP volunteers," shares Mishra.
"We have also started an AAP web radio that has around 5,000 listeners daily out of which around 60 per cent are from Delhi and the rest are from other parts of India and overseas, " says Ankit Lal.
There will be more innovative campaign tools such as 'video raths' that were introduced as BJP President Amit Shah's brainchild in UP during the Lok Sabha elections, where a vehicle with video clips of Modi's speeches on key issues goes around various areas, reaching the voter's doorstep. "This is how people in smaller towns of UP came to know about the Gujarat model. We will be using it in Delhi too," shares Mishra.
Congress's Radhika insists that there may not be impressive numbers of followers for the DPCC's FB page or Twitter profile, but the posts reach around 3.5 lakh people in Delhi. "We also have a newsletter which was earlier brought out weekly, but is now circulated every two days. People can subscribe to know about the Congress's election campaign," she adds.
When asked if the Congress finds itself way behind its opponents in content and reach on social media, Radhika admits, "We may not have the kind of numbers as shown by our opponents but we are getting a good response and people can understand there is an overuse of social media by the BJP, which will eventually harm the party."
AAP argues that BJP may be ahead in number of followers but the AAP continues to stride ahead in terms of engagement.
As per figures shared, AAP's Delhi FB page 'engaged with over nine lakh users', which was up by 22.7 per cent between January 20 and 26. AAP's national FB page 'engaged with 18.84 lakh users, which was up by 51 per cent in the same period.'
With such intense focus on content and efforts to engage and 'set the agenda everyday', the social media teams of all the three parties are aiming for a common goal.
They claim that the strong online connect will translate into votes for the party.
Of course, we will know on February 10 who was right and who was wrong.