In the BJP veteran's home district, some feel he has been harmed by his party, while some think he never gave back to the place he belonged to, and then there are some who believe son Manvendra Singh will have a tough time living up to his name.
Sai Manish reports.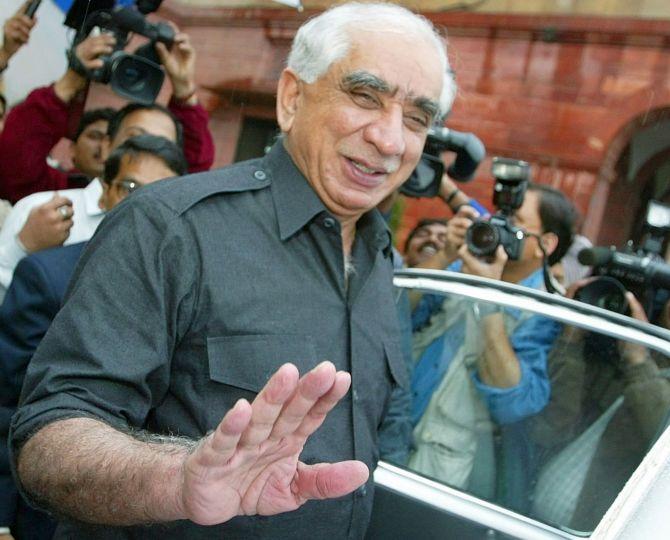 It's perhaps the first-ever state election in Rajasthan that the Bharatiya Janata Party is fighting without its co-founder Jaswant Singh.
A close friend of former Prime Minister Atal Bihari Vajpayee, Jaswant Singh was born in Barmer -- an arid district in western Rajasthan. Like many ironies in Singh's life, the only time he contested from the place he was born in wasn't for the party he helped give birth to.
In the 2014 elections, Singh contested as an Independent candidate from Barmer -- the first time he ever contested from this parliamentary seat. He lost to the BJP's Colonel Sonaram Chaudhary, who had switched over from the Congress and romped home surfing on the so called 'Modi wave'.
Being in coma after suffering a head injury in 2014, he continues to remain on people's minds here. The correspondent travelled across several assembly constituencies in Barmer to capture his legacy.
What emerged was a multi-hued picture: there was a shine in the eyes of some when reminded of Singh, some felt he had been harmed by the BJP, some thought he never gave back to the place he belonged to, others said they remembered him only because he was not keeping well, some called him opportunistic and others believed his son Manvendra Singh will have a tough time living up to Jaswant Singh's legacy.
At the panchayat sub-office in the tehsil of Mewa Nagar in Jasol, where Singh was born, sits Vikas Kumar, all of 19 years. Kumar was born in the year when Indian Airlines flight IC-814 was hijacked and Singh faced a difficult situation of escorting five terrorists, including the notorious Maulana Masood Azhar, and exchanging them for hostages.
Kumar says, "I grew up hearing about Jaswant Singh all the time. I knew him as a strong personality. He was what he was because he was Jaswant Singh, not because he was a member of the BJP. They didn't give him a ticket to contest and expelled him from the party. What the BJP did with him was absolutely wrong."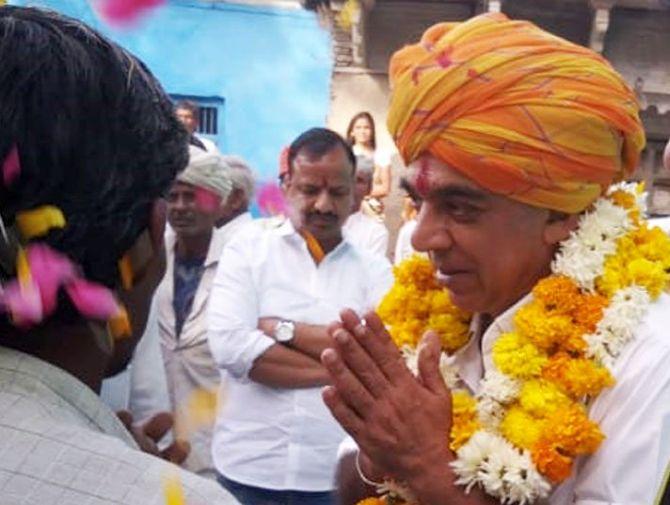 In Gudamalani, a large village which is more agriculturally blessed than the rest of Barmer, people share a similar opinion. Nemichand, a prosperous upper caste farmer who grows wheat and cumin and also runs a gold pawn shop, says: "I used to support the BJP because of Jaswant Singh. We will still support anyone who asks for votes in the name of Jaswant Singh. His son Manvendra has rejected the BJP and his rebellion will definitely be a blow to the BJP's image."
Bhanwarlal Mali, an elderly farmer from the village who grows bajra and cumin, says: "I remember seeing him in person only once in my lifetime during the previous government's rule. He had come to campaign in a nearby town. I don't remember him having done any development work here. What happened with him wasn't good, though."
In the village and assembly constituency of Siwana, where the Aravalis can still be seen in their full glory, perspectives change. "Jaswant Singh's legacy is over here. At one time, people used to swear by his name. Now that happens only in Jasol and nowhere else. I've been here all my life and have never seen him come here once. He never undertook any development work here. And then he put the BJP in a difficult position. What was the need to rebel against the party?" asks Gautam Bhai, a local shopkeeper in the village.
Surender Singh, a BJP worker campaigning for local candidate Hameer Singh, says: "What happened with Jaswant Singh was wrong. But now that doesn't matter. When I recall him now, I can only think sympathetically about him because he is unwell. His son too has betrayed the party."
Colonel Sonaram Chauhan, who defeated Jaswant Singh in the 2014 election, says: "Jaswant Singh was a great friend and a good man. We were political opponents but also worked closely together on many issues. Manvendra Singh is not Jaswant Singh. Jaswant Singh was a mass leader. Manvendra is just encashing on the fact that he is Jaswant's son. It won't pay him. I want to see in five years where Manvendra Singh will be."
Manvendra Singh, when reminded that people have fond memories of Jawant Singh's legacy, said that he was touched about the fact that people in Barmer remembered. He said Barmer would always be his home turf but he has a duty to do in Jhaalrapatan.
En route Jaisalmer from Barmer, on either side of National Highway 68, lies the town of Sheo from where Manvendra Singh was a sitting MLA. Adrim Khan, 50, a farmer, says, "Manvendra is his son and so obviously he will inherit the honourable traits of his father. I have fond memories of seeing him in Pokharan. He used to ask us about our well-being and had a personal connect with us. He was a caretaker and a good friend for us Muslims."