Agitating members of the Banjara community on Monday allegedly targeted Bharatiya Janata Party strongman BS Yediyurappa's house in Shikaripura town of this district and resorted to stone-pelting, injuring some policemen during a protest against the internal reservation for the Scheduled Castes announced by the state government.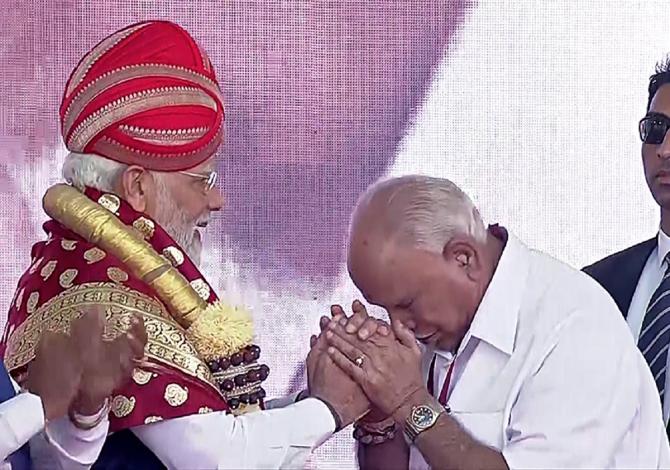 Prohibitory orders under Section 144 of CrPC have been imposed in the town.
The police used batons to disperse the large number of protesters, which included women. Some members of the Banjara community, who are also known as Lamani or Lambani, were injured.
The police were taken by surprise as the agitators, most of them youths, swarmed near Yediyurappa's house and started hurling stones, damaging window glasses.
Sensing the situation going out of control, additional forces were summoned to the area..
The agitators gave vent to their anger, alleging that "less" reservation was given to the 'Scheduled Caste-Touchables', to which the Banjara community belongs.
The Karnataka cabinet had last week decided to introduce internal reservation amongst the SCs.
After hiking reservation for the Scheduled Castes from 15 per cent to 17 per cent, Chief Minister Basavaraj Bommai announced that 6 per cent reservation would be given to SC left sub-category, 5.5 per cent to SC right, 4.5 per cent to Touchables and one per cent to others.
The state government also wrote to the Centre recommending that the proposal be included in the ninth schedule of the Constitution.
© Copyright 2023 PTI. All rights reserved. Republication or redistribution of PTI content, including by framing or similar means, is expressly prohibited without the prior written consent.