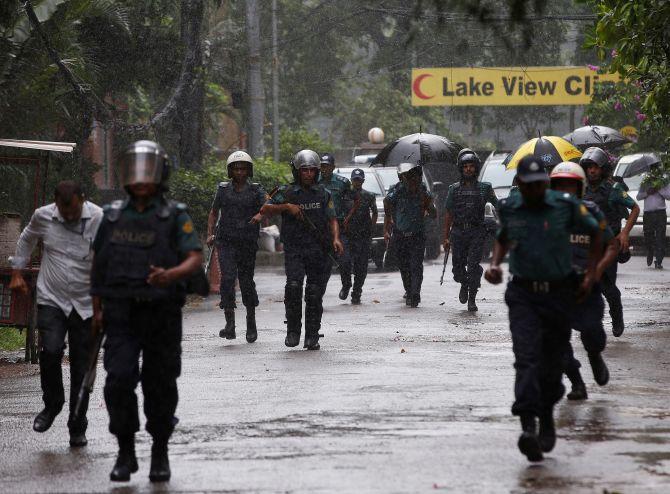 The son of a senior leader of Bangladesh's ruling Awami League could be one of the seven attackers who hacked to death 20 hostages at a restaurant in the diplomatic enclave, a media report said.
Rohan Ibne Imtiaz, the son of S M Imtiaz Khan Babul, a leader of the party's Dhaka City chapter and Bangladesh Olympic Association's deputy secretary general, has been identified as one of the attackers by another Awami League leader, BD News reported.
Babul lodged a police complaint on January 4 this year stating that his son had been missing.
"We have identified him (Rohan) as Imtiaz Babul's son after going through the pictures that came up in the media and on Facebook," Mukul Chowdhury, a vice-president of the recently-defunct Awami League's Dhaka City unit committee, was quoted as saying.
Babul was the youth and sports secretary of the same committee Chowdhury had served.
Rohan completed his A-levels from Scholastica, known as a school for the children of well-to-do families in Dhaka. His mother is a teacher at the school.
Former classmates have uploaded a photo combo on social media of Rohan with his parents and the photo, monitoring group SITE Intelligence published on Twitter, reportedly released by the Islamic State , as one of the Dhaka cafe attackers.
The hostage crisis at the cafe at Dhaka's upscale Gulshan neighbourhood ended in bloodbath after army commandos raided and freed 13 hostages.
The army said six attackers had been killed in the counter-strike and that 20 hostages, mostly foreigners, were found slaughtered inside the restaurant.
Police later released the pictures of five bodies, who they said were the hostage-takers who had been killed in the army assault.
But Rohan was not among them, said relatives. His name also did not come up with the pictures posted by SITE or police.
SITE identified the five attackers as Abu Omar, Abu Salam, Abu Rahim, Abu Muslim, and Abu Muharib al-Bengali.
The names provided by police are 'Akash', 'Bikash', 'Don', 'Badhon' and 'Ripon'.
Inspector General of Police A K M Shahidul Hoque told the media today the five attackers were members of militant outfit Jamaa'tul Mujahideen Bangladesh.
He claimed that they had been looking for them for quite some time.
Chowdhury said he had failed to contact Babul since Rohan's photos started emerging in the media.
According to the police complaint filed by Rohan's father, the 20-year-old was a business student at BRACUniversity in Dhaka.
It says that Babul went to India on December 25 last year to get his wife treated and on December 30, he was informed from Dhaka that Rohan had not come back home.
Image: Policemen patrol on the road leading to the Holey Artisan Bakery and the O'Kitchen Restaurant after gunmen attacked it in Dhaka. Photograph: Adnan Abidi/Reuters