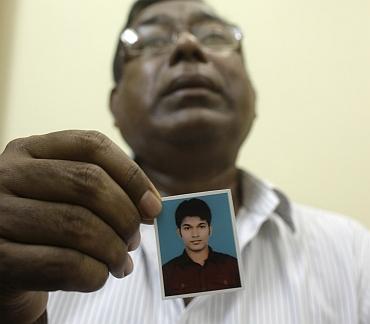 A 21-year old Bangladeshi man, who came to the United States aiming to 'destroy America', has pleaded guilty to attempting to carry out a terrorist attack for the Al Qaeda at the Federal Reserve Bank here using a 1,000-pound bomb.
Quazi Mohammad Rezwanul Ahsan Nafis, entered his guilty plea to the charge of attempting to use a weapon of mass destruction at the US District Court for the Eastern District of New York on Saturday.
"The charge to which Nafis pleaded guilty, attempting to use a weapon of mass destruction, carries a sentence of up to life imprisonment," federal prosecutor Loretta Lynch said in a statement. Nafis would be sentenced on May 30 at a federal courthouse in Brooklyn.
According to Nafis's guilty plea, he had travelled to the US in January, 2012, 'intending to fight violent jihad' and tried to recruit people to form a terrorist cell. He also sought other al-Qaeda contacts within the US to help him carry out terror attacks against high-ranking US officials and the New York Stock Exchange, the plea said.
In his possession were bomb-making instructions and speeches by now dead Al Qaeda leader Anwar al-Awlaki. In a written statement, Nafis said he wanted to 'destroy America' and chose to target the Federal Reserve Bank in Manhattan's financial district in an attack planned for October last year on behalf of al-Qaeda because he believed the most efficient way to accomplish his goal was to target America's economy.
Nafis came into contact with a Federal Bureau of Investigation undercover agent who posed as an Al Qaeda facilitator. At Nafis's request, the undercover agent supplied him with 20 fifty-pound bags of fake explosives, the FBI statement said.
Nafis met the undercover agent on the day of the planned attack and said he had a 'plan B' that involved conducting a suicide bombing operation in the event that the attack was about to be thwarted by the police, the statement said.
After assembling the 1,000-pound bomb, Nafis and the undercover agent drove to the Federal Bank where he repeatedly, but unsuccessfully, attempted to detonate the fake bomb and was arrested, the statement said. In his statement, Nafis included quotations from 'our beloved Sheikh Osama bin Laden' to justify the killing of women and children that Nafis expected would result from the attack.
"We will not stop until we attain victory or martyrdom," he said. Lynch said Nafis came to America 'not to further his studies but to advance the goals of jihad. Once here, he devoted his energies to refining his plan to disrupt the US economy and kill Americans and attempting to recruit others to join him'.
"We will not wait for our enemies to attack us before using the tools at our disposal to discourage, disrupt, and, ultimately, detain them with lengthy terms of incarceration," Lynch said.
Nafis purchased components for the bomb's detonator and conducted surveillance for his attack on multiple occasions in the city's financial district in lower Manhattan, the FBI statement said. New York Police Commissioner Raymond Kelly said Nafis is one of the several people charged in terrorist plots over the years against targets in New York city.
"There have been 16 plots against the city that we know of since the WorldTradeCenterTwinTowers were destroyed in 2001. Time and again, individuals intent on making a violent terrorist statement select New York City as their venue," he said.
Picture: Quazi Mohammad Ahsanullah, father of Quazi Mohammad Rezwanul Ahsan Nafis, holds a photograph of his son inside his residence at Uttar Jatrabari in Dhaka
Photographer: Andrew Biraj/Reuters