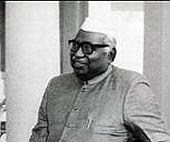 Forty-one years after it won independence, Bangladesh has honoured then Indian defence minister Jagjivan Ram, describing him as a war hero who was "instrumental" in the 1971 liberation war against Pakistan.
"He was instrumental in the creation of the 'Joint Command' of Bangladesh and Indian Forces for the final assault which led to victory," read the citation conferred on Jagjivan Ram, who was India's defence minister during the 1971 war.
The citation mentioned that he had consolidated and coordinated the war strategy with great efforts by providing training, arms and supplies to Bangladeshi freedom fighters.
But the history of politics is likely to remember him more for his historic parliamentary statement on December 16, 1971 announcing the emergence of Independent Bangladesh.
"I have an announcement to make. The West Pakistani forces have unconditionally surrendered in Bangladesh... Dacca (now called Dhaka) is now the free capital of a free country," he said minutes after Pakistani troops conceded defeat to the Indo-Bangla joint forces after nine months of war.

Ram's grandson and incumbent Lok Sabha speaker Meira Kumar's son Anshul Avijit received the honour from President Zillur Rahman and Prime Minister Sheikh Hasina at the Bangabandhu International Conference Hall on Saturday.


"(I am) exited, honoured and grateful... it is reminder of (Ram's) links to Bangladesh's independence," Avijit told PTI on the sidelines of the ceremony.
Avijit, a student of political history and currently doing his doctoral research abroad on colonialism, recalled until his 16 years of age he found Ram as a very affectionate figure who used to tell him the contemporary Indian history not in a manner that highlighted himself.
"The remarkable thing is that he used to say he never wanted the war but nonetheless he wanted the justice to prevail as Pakistani troops carried out genocides in Bangladesh and made pre-emptive attacks on India," Avijit said.
Defence analysts and military veterans previously appreciated Ram for his stewardship during the war, with then chief of general staff in Eastern command Lt Gen (retd.) JFR Jacob describing him as "perhaps the best Defence minister we (India) have had".
"He had an excellent grasp of military strategy. He was also an able administrator. It was Jagjivan Ram who made sure that the requirements of the three Services -- manpower, weaponry equipment and infrastructural facilities -- were provided, as far as possible," read the Surrender at Dacca of Jacob.


© Copyright 2022 PTI. All rights reserved. Republication or redistribution of PTI content, including by framing or similar means, is expressly prohibited without the prior written consent.