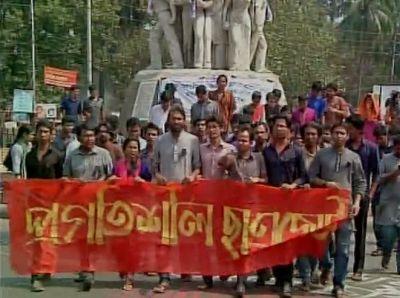 A 27-year-old Bangladeshi blogger was on Monday hacked to death by machete-wielding three suspected Islamists with two of them being arrested, a month after a prominent American writer was killed in a similar manner in the national capital.
Washiqur Rahman Mishu was stabbed to death in broad day light in Tejgaon Industrial area of Dhaka on Monday morning.
"He died on the spot as the assailants attacked him with machetes... Doctors declared him dead when he was brought to the Dhaka Medical College Hospital," a police official said.
Three killers carried out the attack and police caught two of them with machetes from the spot red handed, said Biplob Kumar Sarkar, deputy commissioner of Dhaka Metropolitan Police.
The 27-year-old blogger was killed following a conflict over "ideological difference", a police official said while addressing a briefing.
Police identified the detained persons as Jikul and Ariful Islam, students of Hathazari Madrasa in Chittagong and Darus Ulum Madrasa in the capital's Mirpur area respectively.
Another attacker named Taher managed to escape the scene, the police officer said.
Police said they have seized three machetes used for meat cleaving from the scene. Witnesses said Mishu's face was distorted as the miscreants hacked him mainly on the face.
A private TV channel reported that Mishu used to work for an NGO and was also a blogger.
The murder comes a month after Bangladeshi-American Avijit Roy, a secular blogger and science writer, was hacked to death in an identical manner in Dhaka.
Mishu was the third blogger to be killed by the suspected Islamists in the past two years with Rajeeb Haider being the first one who was hacked to death in February 2013 in Dhaka.
A Dhaka court on March 18 indicted the chief of a banned Islamist outfit and seven students of a private university for the murder of Haidar while a Federal Bureau of Investigation-assisted investigation was underway to bring Roy's killers to justice.
Investigators found involvement of Ansarullah Bangla Team in both the murders.