'Sheikh Hasina is sincere about maintaining religious harmony in the country.'
'But for mysterious reasons, it does not reach the grassroots activists of her party.'
Prakash Bhandari listens to voices from across the border.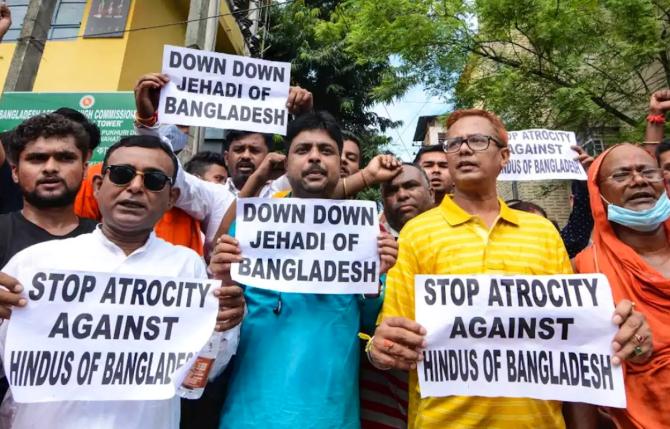 During recent Durga Puja celebrations, Hindu temples were vandalised and more than half a dozen Hindus killed in anti-Hindu violence across half a dozen districts in Bangladesh following footage of an alleged blasphemous incident emerging online.
The violence came after the extremist Islamic Shastrotantra Andolan staged a huge procession in Dhaka against an incident in Cumilla where it was alleged the Quran was disrespected.
Protestors vandalised idols and entered Durga Puja pandals to disrupt rituals.
Durga Puja is celebrated across Bangladesh and over 13,000 such pujas are held in various districts of this Muslim country, which has 16 million Hindus as its largest minority.
In recent years, Durga Puja committees in Bangladesh have been facing trouble in observing the Puja.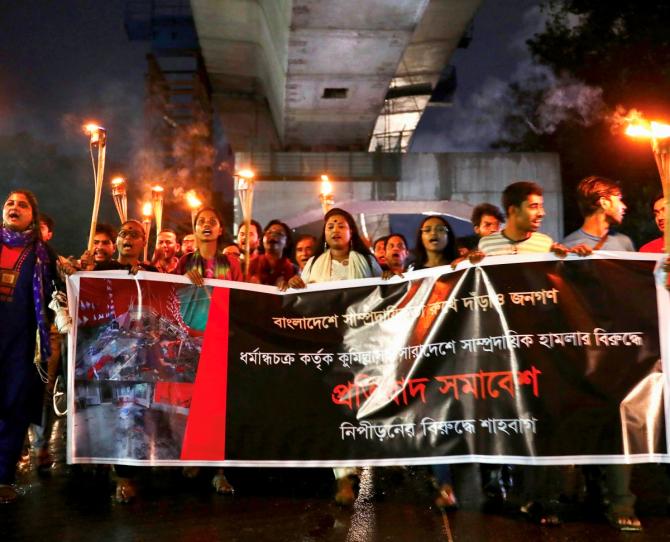 Durga Puja pandal organisers have to obtain a licence from the district administration to hold celebrations, after which they can set up temporary pandals.
It is mandatory for the district administration to provide security to pandals within its jurisdiction.
Islamism is on the rise in Bangladesh, fueled by grievances of economic inequality and by the government's increasing inability to provide jobs and basic services to the poor.
Some Islamic fundamentalists feel the Hindus, though in a minority, prevent them from getting jobs and that they should be sent to India.
In recent years, the hardline Jamaat-E-Islami and Hifazat-E-Islam along with smaller Islamist groups have been targetting Hindus.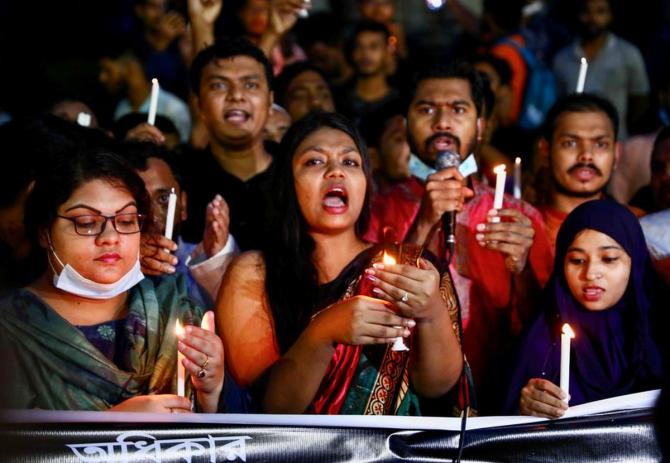 A Dhaka-based human rights organisation, Ain O Salish Kendra, issued a fact sheet after the recent violence that lists 3,710 attacks against Hindus between January 2013 and September 2021.
The attacks included vandalism at religious sites and setting fire to Hindu homes, shops and businesses.
According to the Ain O Salish Kendra report, at least 2,016 houses, shops and businesses came under attack in this period.
1,677 cases of vandalism and arson attacks on Hindu temples were reported. Besides, 26 incidents of grabbing land and properties took place.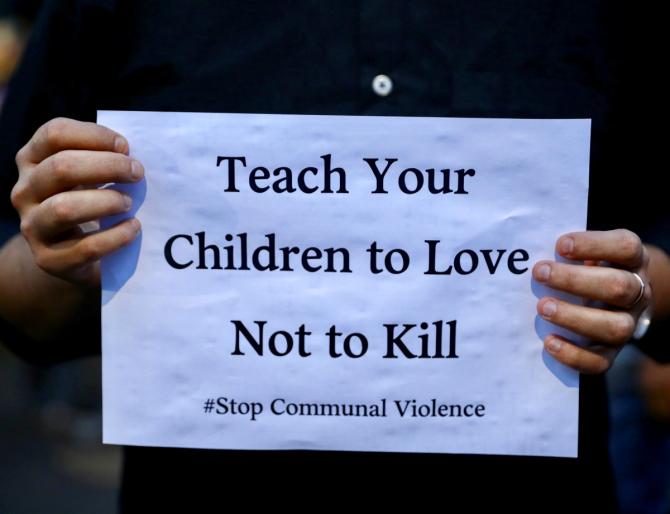 Rana Dasgupta, general secretary of the Bangladesh Hindu Buddhist Christian Oikya Parishad, alleges that the attacks are part of an Islamist blueprint to force the minorities to leave the country.
"It is unfortunate that the majority of grassroots leaders of the ruling Awami League are joining the attacks," says Dasgupta.
"Awami League chief and Prime Minister Sheikh Hasina is sincere about religious harmony in the country," says Dasgupta, adding, "But for mysterious reasons, it does not reach grassroots activists of the party."
Hindu Existence Web site editor Upananda Brahmachari tweeted: 'Indian PM Narendra Modi and Union External Affairs Minister Dr Jaishankar to intervene into the matter to stop attacks on the festivals of minority Hindus in Bangladesh.'
'Saddened, but not in the least surprised. Bangladesh is becoming East Pakistan again -- and once Sheikh Hasina departs from the scene, we could end up facing foes on three fronts,' another Brahmachari tweet stated.
"Hinduism is practised by around one per cent of the population while Muslims are about 98 per cent," says Subir Nandi Das, a lawyer in Dhaka.
Bangladesh is a self-stated secular country, with religious freedom and practices that are not influenced by religion.
The secularism principle was removed from the Bangladesh constitution in 1977 by then president General Zia-ur Rahman and replaced with a statement of 'absolute trust and faith in Almighty Allah'. Islam was declared the State religion in 1988.
In 2010, the Bangladesh supreme court restored secularism to the constitution, but re-stated that Islam remained the State religion.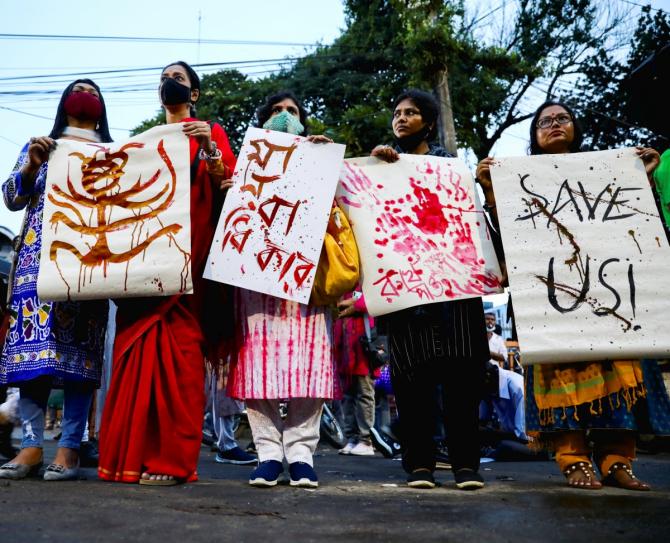 'Why does the Hindu community still have to observe its religious festivities in a climate of anxiety and unease? Why do bigots still find it all too easy to spread hatred, practise vandalism, and perpetrate violence against them? Why is equal protection of the laws still not available in practice to all communities?', columnist Tanveer Haider Choudhry asked in the Dhaka Tribune, a liberal newspaper.
'The truth is the secular sovereign State of Bangladesh has become the country of people who are Bangali by ethnicity and Muslim by religion,' Choudhry pointed out. 'People of all other ethnic groups and religious persuasions live in this land at our indulgence.'
Feature Presentation: Rajesh Alva/Rediff.com