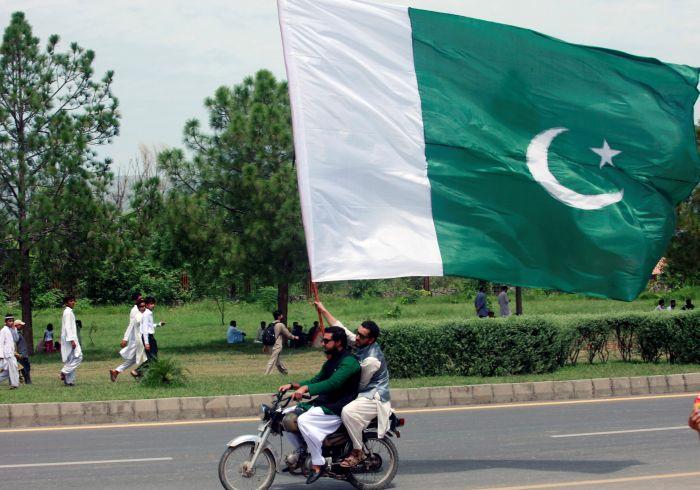 Bangladesh Prime Minister Sheikh Hasina has hit out at Pakistan, saying its Army launched a 'heinous' military operation in 1971 which triggered a 'genocide' during the liberation war, killing three million innocent people.
In her address to the United Nations General Assembly on Friday, Hasina said her country's parliament had recently declared 25th March as 'Genocide Day' to pay homage to the victims.
The war in 1971 broke after a sudden crackdown at midnight on March 25, 1971 in the erstwhile East Pakistan by the Pakistani troops and ended on December 16.
The same year Pakistan conceded defeat and unconditionally surrendered in Dhaka to the allied forces comprising the freedom fighters and the Indian soldiers.
Officially three million people were killed during the nine-month long war.
"In the 1971 war of liberation, we endured an extreme form of genocide. In the 9-month-long war of liberation against Pakistan 3 million innocent people were killed and more than 2,00,000 women were violated," Hasina said.
"The Pakistan military launched the heinous 'operation searchlight' on 25th March which was the beginning of the 1971 genocide. The 1971 genocide included targeted elimination of individuals on the ground of religion, race and political belief. The intellectuals were killed brutally," Hasina said.
Exercising its right to response, Pakistan rejected Hasina's statement.
"Prime Minister for our Bangladeshi brothers and sisters, let me add that they have to come out of the narrative of hate and dispel the twisted notions of history. There are no takers for their contentions," Pakistan said late on Thursday night.
"The issues of 1971 agreed were and settled under the budget agreement of 1974 which was signed by India and Bangabandhu of Bangladesh. Hate berates hate. We have to move on," Pakistan said.
Hasina also said that terrorism and violent extremism had become a major threat to peace, stability and development.
"Terrorists have no religion, belief or race. Having been a target of a number of terrorist attacks myself, I personally empathise with the victims of terrorism and appreciate their need for protection. We denounce the use of religion to justify violent extremism," she said.
Hasina reiterated her call to stop supplying arms to the terrorists and to stop terror financing, besides settling all international disputes peacefully.
"I also urge the UN to address the growing threats emanating from the cyber space to prevent money laundering, terrorist financing and other transnational organised crimes," she said.
Pakistan hub of terror activities: Afghanistan

Afghanistan, meanwhile, accused Pakistan of diverting attention of the international community from its 'longstanding failure' to take effective action against various terrorist groups and sanctuaries on its territory.
Pakistan's Prime Minister Shahid Khaqan Abbasi said in his address at the UN General Assembly that safe havens of the Taliban does not exist in Pakistan, but in Afghanistan.
Exercising its right to reply Afghanistan said, it is evident that the propagation of terror activities in neighbouring Pakistan constitutes the main source of insecurity in the country and the region.
Afghanistan's representative on the floor of the General Assembly said that one member state's claims regarding the presence of safe havens and sanctuaries in Afghanistan was erroneous.
"Such a difference is a deliberate attempt by the government of Pakistan to divert international attention over Pakistan's longstanding failure to take effective action against various terrorist groups and sanctuaries on its territory," an Afghan diplomat representing the country said.
"It remains evidently clear to the global community that the propagation of terrorist activities by state and non-state actors in neighbouring Pakistan constitutes the main source of insecurity in Afghanistan and the region," he said.
Afghanistan has persistently and consistently sought to address this outstanding issue through various channels including bilateral and other mechanisms, he said.
Nevertheless, efforts to this end have yielded no results whatsoever, he said.
"At this juncture Pakistan has another opportunity to engage in a comprehensive dialogue to resolve outstanding issues that have prevented it from adopting a clear and decisive stance in combating terrorism and constructive approach for peace and security in Afghanistan and the wider region," he said.
Long before any international intervention of the so-called civil war in Afghanistan, it was the adoption of a policy of use of violent proxies in the pursuit of political objectives by Pakistan, he said.
"Even though not necessary we wish to categorically reject any claim of any support provided to terrorist groups in Afghanistan, the facts speak for themselves," the Afghan diplomat asserted and said that now it's time for Pakistan to opt for a constructive approach in combating terrorism and promoting peace in the region.
Moving forward, Afghanistan will use any means possible including negotiation and dialogue to ensure security and stability for its people, he said.
"In this context our resolve and commitment to defeat terrorism is unwavering. And this is shown in action by the sacrifice of our brave our national defense and security forces every day," the Afghan diplomat said.
Responding to Afghanistan's statement, Pakistan said that Afghanistan instead of blaming others for its problems and failures 'should focus' on eradicating safe havens for terrorists in its ungoverned spaces deal with its war economy and narcostate.
"That is a major threat to regional peace and stability," the Pakistan's representative said.
Photograph: Faisal Mahmood/Reuters
Faisal Mahmood