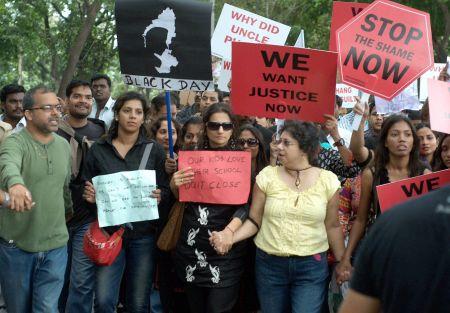 Amid protests over the alleged rape of a six-year-old girl in a public school, people, mostly mothers, are posting petitions online to air their criticism on the matter and suggestions to Chief Minister Siddaramaiah.
Maithreyi Nadapana petitioned Siddaramaiah to immediately announce a roadmap and a timeline for making the city a safer place to live in. Another online petitioner Smitha Abhayankar urged the government to set up a permanent commission for women's safety.
"No more than half the members from government, whose recommendations shall be binding on government," she said.
Argani Punj demanded creation of necessary infrastructure like CCTVs across Bangalore and increase in women police stations, besides recruiting more women in police force.
Airing her views on an online portal, change.org, Pavithra Shetty, a mother of a 3-year-old girl, asked Education Minister Kimmane Ratnakar to issue a directive to all schools to impose security measures for the safety of children.
Pavithra urged the minister to issue a directive to all schools to conduct background checks for all employed and contractual staff.
Dipshika Sahni, another online petitioner, said since the children spend several hours in the school every day, it is schools' responsibility to impose security measures for the safety of children.
The alleged rape of the girl by "unknown persons" has triggered protests from outraged parents, who suspect involvement of school staffers, as also from civil society.
This incident and the alleged rape of a 22-year-old woman in a car on July 10 has led to an outpouring of public anger.
Image: Guardians of school students take part in a protest rally against the rape of a 6-year old school girl, in Bengaluru. Photograph: PTI