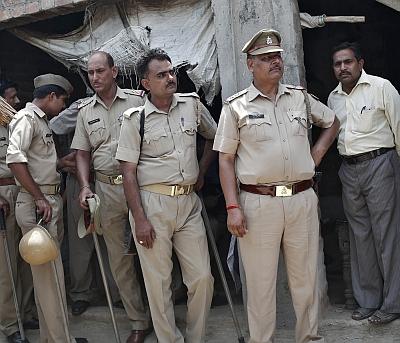 Under attack over the rape and murder of two Dalit cousin sisters, the Akhilesh Yadav government on Saturday suspended Badaun superintendent of police and decided to take action against the then district magistrate and undertook a massive rejig involving 66 Indian Administrative Service officials and 42 Indian Police Service officers.
Chief Secretary Alok Ranjan, who faced a volley of questions from reporters in Lucknow, said several facts have emerged in the Badaun incident and it would have been better if the administration had acted promptly.
"SP Badaun (Atul Saxena) has been suspended and a decision has been taken to take action against the then district magistrate (Uday Raj Singh). The new DM has taken charge only two days back," he said.
L R Kumar, superintendent of police (law and order), Director General of Police headquarters, has been posted as the new SP of Badaun district.
The decision to crack the whip was taken at a meeting convened by Chief Minister Akhilesh Yadav and attended by Principal Secretary (Home) Deepak Sighal and DGP A L Banerjee.
Banerjee said that a lot of evidences could have been collected immediately after the incident, but the local police made no extra effort to find them.
Bodies of the two cousins aged 14 and 15 years were found hanging with a tree in Katra Sadatganj village last month, triggering outrage in the state.
Apart from suspending the SP of Badaun, the Akhilesh government carried out a major reshuffle in the police department, transferring 42 IPS officers including inspectors general of police and deputy inspectors general.
IGP Ashish Gupta, recently removed from the Special Task Force and put on the wait list, has been appointed IGP Railway, Lucknow.
IGP Kanpur zone, Sunil Kumar Gupta, has been shifted to Allahabad zone. IGP Agra Asutosh Pandey will replace him. SSP Ghaziabad, Sachi Ghildiyal, has been made SP (administration). She will be replaced by Commandant sixth PAC Dharmendra Singh.

Image: Policemen stand guard inside the house complex of the two teenage girls, who were raped and hanged from a tree, at Budaun district. Photograph: Anindito Mukherjee/Reuters