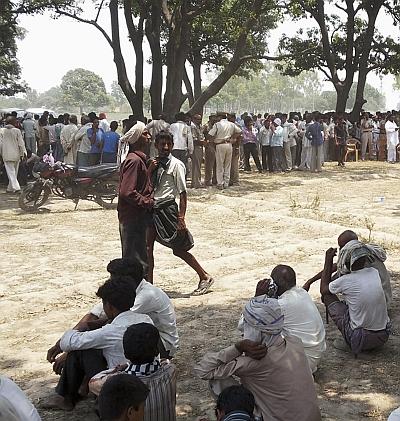 The Central Bureau of Investigation on Monday carried out lie detector tests on the fathers of the two cousin sisters from Badaun in Uttar Pradesh who were allegedly raped, killed and their bodies found hanging from a tree even as the victims' family objected to the move of the agency.
CBI sources said the fathers of the rape victims, a family member and a witness have been brought to undergo polygraph test at Central Forensic Science Laboratory in CGO complex.
Protesting the move, the victims' brother Virendra along with the members of Naya Daur Party sat on fast unto death here at Jantar Mantar alleging that CBI is harassing his family by subjecting his father to a lie-detector test. He said the CBI is focusing on the victims rather than the accused.
The sources said they have taken three days' time from the court in Badaun to subject these four persons to polygraph or a lie-detector test but if the procedure is completed earlier they may be allowed to go.
They said during the test which started on Monday, the family members of the victims were repeatedly asked about the mobile phone of the girls and why it was broken.
The CBI sources said they do not doubt the claims made by the families of the victims but in order to develop a flawless case the agency needs to test the veracity of their statements.
The sources said the statements given by the family members have some inconsistencies, which need to be clarified before proceeding in the case.
Image: The spot where the girls were found hanging from the tree after they were raped and killed.