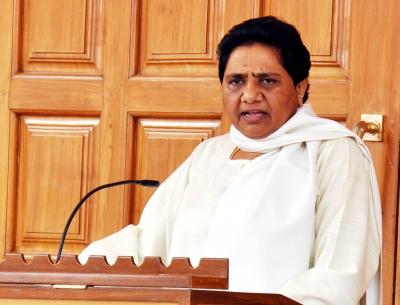 A day after Congress leader Rahul Gandhi met the victims' family, local SP Member of Parliament Dharmendra Yadav also reached Katra village where he faced the anger of the inconsolable parents who have alleged that the police did not take prompt action in the case because of their caste.
Mayawati, who met the family of the cousins whose bodies were found hanging on a tree on May 28, announced Rs 5 lakh each to the victims' kin from the party fund, claiming that though they have refused the government compensation, they would accept her assistance.
"The family members told me that the local MP came this morning and offered compensation and all help, but they refused. They told that whatever I will give them, they will accept gladly," she said after meeting the family.
"They (family) said police had all plans to save the accused which I strongly condemn," she said . "There was an attempt to put the case on the back burner and when I came to know this, I immediately decided to come to Badaun," she said.
"After I got to know that the state government was delaying action, I sent my party's national general secretary Naseemuddin Siddiqui to the village and held a press conference."
"The outcome of my decision was that the state government decided for a Central Bureau of Investigation inquiry into the matter," she added. Mayawati alleged that there was complete "jungle raj" in the state and Badaun was the most affected.
She threatened that if "atrocities" were committed on the people here in the future, she would stage a sit-in in protest. Mayawati stayed at the victims' house for around 20 minutes and said the financial assistance would reach them by Tuesday.
"Only transferring and suspending officers will not improve the situation. They have to tighten the noose around their own party people," she said. While referring to SP supremo Mulayam Singh Yadav's statement on capital punishment in rape cases, the BSP supremo alleged, "It is the result of extending wrong support to save rape accused that his own partymen are committing such incidents in which the police is also involved."
Reiterating her demand for imposition of President's rule in the state, she said, "If the state government is unable to control the situation then in the interest of the people it should relinquish power. Otherwise we again request the governor to recommend President rule," she said.
Mayawati said that Centre should also take an initiative in this direction, otherwise the people of the state would not forgive Bharatiya Janata Party along with the SP. The BSP chief was talking to reporters before leaving for Badaun to meet the family members of two cousin Dalit girls, who were gang-raped and later hanged.
Image: Bahujan Samaj Party supremo Mayawati in Lucknow. Photograph: Sandeep Pal/Rediff.com