After his visit to Gohana to attend a public rally on Sunday was cancelled due to bad weather, Union Home Minister Amit Shah addressed the gathering briefly over phone and exuded confidence that 'lotus will bloom' on all Lok Sabha seats in the state in 2024 elections.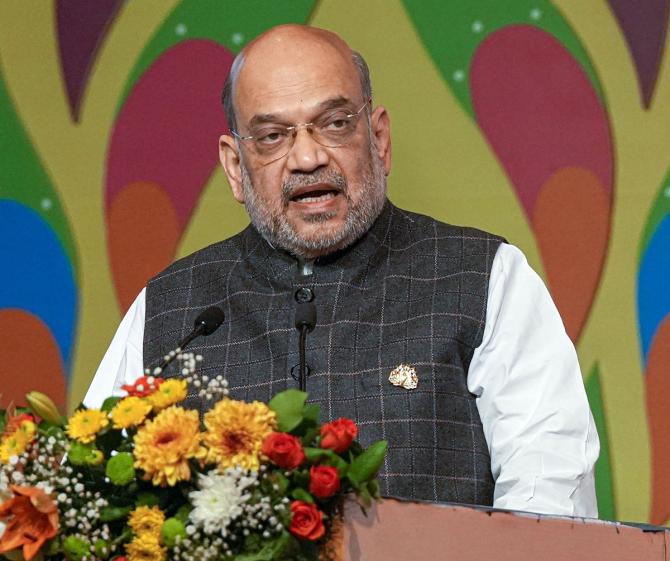 He also said the Manohar Lal Khattar government has reined in corruption and undertaken development in all fields during the past eight years.
Addressing the 'Jan Utthan Rally', Shah made an appeal to the people of Haryana to vote for Bharatiya Janata Party in 2024 Lok Sabha elections to make Narendra Modi the prime minister again.
"I could not come, but in near future I will come to Gohana," he said, adding 'on every Lok Sabha seat, Bharatiya Janata Party's lotus will bloom, I have full belief'.
The BJP had in 2019 won all the 10 Lok Sabha seats from Haryana.
Haryana unit of the BJP had been preparing for the rally for the past few weeks and Shah was also to address a party meeting here.
Gohana, which falls in Sonipat district, is considered as stronghold of former Chief Minister Bhupinder Singh Hooda.
Addressing the rally, Shah said the present state government has ended casteism, improved the law and order, and ensured there is no corruption in recruitment for government jobs in the state.
The Union home minister said that the development which has been undertaken in the past eight years was not witnessed in the state in decades.
He also mentioned that now educated sarpanches are taking Haryana forward.
Earlier, speaking at the rally, Haryana Chief Minister Manohar Lal Khattar announced that Shah could not come as his helicopter was not given permission for takeoff due to bad weather.
The weather in Gohana was inclement and more rains were likely during the day.
Khattar said that Shah wanted to come by road but since it would have taken two hours, he suggested to the Union minister to address the gathering over phone.
Addressing the gathering over phone, Shah said, "I had great desire to meet you all in this rally, but due to bad weather, permission for helicopter takeoff was not given."
Shah said that after permission for helicopter was not given he started to come by car, but as more rain was predicted the Haryana chief minister requested him to address the gathering over phone.
Apart from Khattar, Haryana BJP chief O P Dhankar and some state ministers, including J P Dalal and Kamal Gupta, were among those present at the rally.
In his address, Khattar made a mention of BJP forming the government for the first time on its own in Haryana in 2014.
The chief minister said before 2014, an atmosphere of fear and corruption prevailed, but the present government worked to change the system.
"We have done many works to bring changes in the system and ensured that all sections of society, including farmers, small shopkeepers, labourers, poor and downtrodden, are benefitted," he said.
Khattar lashed out at the previous Congress regime, alleging that corruption was rampant in transfers and recruitments, and change of land use industry flourished during their time.
Refuting Congress leaders' charges that unemployment has increased in the state, the CM said as the present government came down heavily on corruption, it was those people who used to indulge in such activities during the previous regime have become jobless.
While one lakh people have been given government jobs during the present government's time, about 8.5 lakh have got employment in private sector, he said.
In reference to the BJP being in power both at the Centre and in Haryana, Khattar said the 'double engine' government has been serving the people for the last eight years.
On the basis of 'our achievements, we again formed government in 2019', said Khattar.
In the assembly polls held in 2019, BJP won 40 of the 90 seats and after it fell short of majority, it forged an alliance with Jannayak Janta Party, which has 10 seats in the present state assembly.
"Good governance has been our motto and we ensured transparency in government jobs," he said, while adding "many of our schemes are being praised by the Centre and other states as well".
He said Haryana procures 14 crops at minimum support price from farmers and payments are made through DBT system.
© Copyright 2023 PTI. All rights reserved. Republication or redistribution of PTI content, including by framing or similar means, is expressly prohibited without the prior written consent.