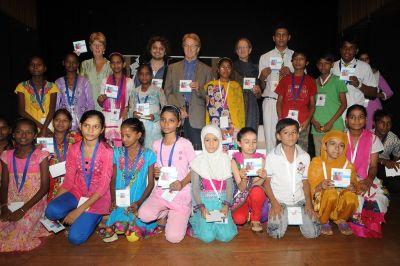 UNICEF India on Saturday unveiled a song, 'baap wali baat', to mark the International Day of the Girl Child. The song puts the spotlight on men for ensuring empowerment, safety and realisation of dreams for girls across the country.
Launched as part of the second phase of the #ENDviolence campaign with the slogan #ItStartsWithMe, UNICEF India's song `baap wali baat' song, builds a vision of freedom from violence where girls can thrive and develop to their full potential.
Speaking at the function, Louis-Georges Arsenault, UNICEF representative said, "It is a song that stresses the importance of valuing girls for whom they are, of empowering them through education, protecting them and upholding their role as a human beings and citizens of our society."
The focus of the #ENDviolence campaign is on men of different age groups, inviting them to stand up for his daughter ensuring she has access to education, is safe and encouraged to realise her dreams. "It is about a father who values his daughter and is willing to stand up against societal pressures," said Arsenault.
This year's International Day of the Girl Child theme is Empowering Adolescent Girls: Ending the Cycle of Violence.
Rebecca Reichmann Tavares, UNWOMEN Representative in India, Bhutan, Maldives and Sri Lanka, talked about the challenges faced by women and girls. "Violence against women and girls is a worldwide issue and it is never acceptable, excusable or tolerable. Today is a step towards breaking the silence on this very important issue."
Rebecca said, "While there are many existing laws that offer protection of the rights of women, the solution lies in changing the mindsets. The aim of the new song by UNICEF is to create a positive mindset among men. So when boys see their fathers respecting women, they are likely to do the same when they grow up."
She also spoke about the first of its kind campaign `HeForShe' which was launched globally by UN Women Goodwill Ambassador Emma Watson in September. It will be unveiled in India next week, with an aim to focus on men pledging to support women, to end gender inequality.
"It is important for men to acknowledge that gender inequality is their issue too which will open up ways of tangible progress for women and girls. We have good response on facebook and twitter and in India we have a large number of men who have already signed up," said Rebecca.
Speaking on the occasion, Frederika Meijer, UNFPA Representative in India and Bhutan said investing in and empowering adolescent girls was crucial in order to prevent and eliminate the various forms of violence that they experience. "The investment would mean girls would marry later, delay childbearing, have healthier children and earn higher incomes. Consequently, girls would invest in the family, society and the nation. Let every girl be a part of the nation's development agenda and she will do her part," she said.
The second phase of the #ENDviolence campaign aims at raising awareness about different forms of violence, including physical, emotional, sexual and child marriage. The emphasis is on cutting across the us and them divide in terms of onus of making the positive changes and talking in first person: I can #ENDviolence because #ItStartsWithMe.
The key to opening up minds and ushering positive decisions for girls is the need of the hour and UNICEF's `baap waali baat' campaign is supported by a series of partners that will contribute to disseminate the song as well as other campaign materials through their respective networks and platforms.
UNICEF is hoping to disseminate the message through multiple social media platforms as well.
Akhil Kumar, senior editor of Youth Ki Awaaz, which is partnering with UNICEF said "violence against women and children is a pressing challenge of our times. It is our responsibility to focus on this issue and help change the structures that facilitate this systemic oppression. We have to work towards giving women and girls their rightful due and finding tangible solutions. The focus of the new song is to capture the imagination of the youth and it would work quite well on the social media."
Image: UNICEF India's song builds a vision of freedom from violence where girls can thrive and develop to their full potential