Senior Congress leader Jairam Ramesh on Saturday said he never thought former party leader Ghulam Nabi Azad would turn out to be a "Mir Jafar" and alleged that he had been propped up by the Bharatiya Janata Party to cut the Congress' votes in Jammu and Kashmir.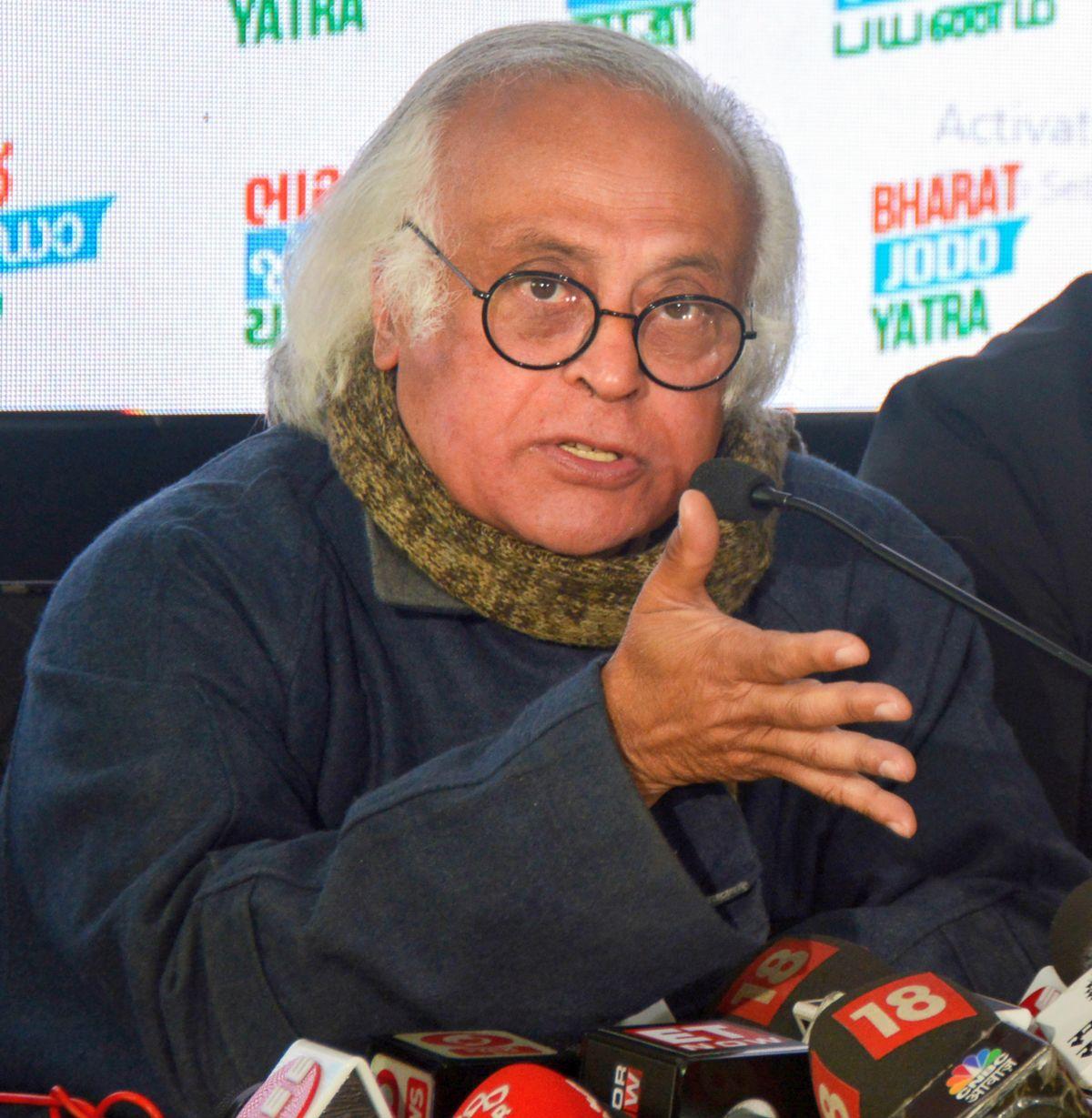 Speaking with PTI, while walking in the Bharat Jodo Yatra that is in its final leg in Kashmir and is set to conclude on January 31, Ramesh said the most important thing right now is that Jammu and Kashmir's statehood be restored and elections be held besides bringing in Ladakh under Schedule VI of the Constitution so that it is governed by elected representatives and not bureaucrats.
He listed Democratic Azad Party (DAP) chief and former Congress leader Ghulam Nabi Azad as part of BJP's plan to divide votes with others in the list being All India Majlis-e-Ittehadul Muslimeen's Asaduddin Owaisi and the Aam Admi Party.
"His going from the Congress was part of a Modi-Shah game-plan to cut votes. There are three vote-cutters in India -- Asaduddin Owaisi put up by the BJP, AAP put up by the BJP and Azad put up in J-K to cut Congress' votes. I do not think it is going to happen," Ramesh said.
On whether Azad would dent the Congress' prospects with his DAP, Ramesh pointed out that most Congress workers and leaders who left with Azad have returned to the party fold.
Asked if Azad can ever make a comeback into the Congress like some of his newly formed party colleagues have, Ramesh said, "I have no idea what Mr. Azad's plans are. I never imagined in my wildest dreams that he would actually abandon the Congress. It is the party that gave him identity for almost 50 years, gave him every conceivable position in the party and in the government, including chief minister, Union minister, Leader of Opposition, but I never thought he would be Mir Jafar, never."
Mir Jafar served as the commander of the Bengal army under Siraj ud-Daulah, the Nawab of Bengal, and betrayed him during the Battle of Plassey, paving the way for British rule in India.
Admitting that he was never a close associate of Azad, the Congress general secretary said he still "cannot reconcile with the manner of his leaving, the letter that he wrote diminished him in the eyes of every Congress person, particularly after getting all the benefits from the Congress in the last 50 years."
Asked how he sees the revocation of Jammu and Kashmir's special status and its impact, Ramesh pointed to the Congress resolution of August 6, 2019, and said the party wants restoration of the democratic process, restoration of full-statehood and Ladakh to get its Schedule VI status in the Constitution and not be a Union Territory governed by bureaucrats getting orders from New Delhi.
"So it is a long drawn out process. But I do want to say that one should not forget that the Indian Constitution has Article 371 A-J, which has special provisions for Nagaland, Sikkim, Goa Arunachal Pradesh, parts of Assam. Indeed, Article 371 has special provisions for parts of Gujarat, Maharashtra and Karnataka. So those who criticise Article 370 should also look at Article 371," Ramesh said.
In 2019, Article 370, which granted special status to Jammu and Kashmir, was abrogated and the erstwhile state was bifurcated into union territories of Jammu and Kashmir and Ladakh.
The Congress general secretary alleged that the claims of normalcy in Jammu and Kashmir are "largely exaggerated because targeted killings are continuing, not only in Kashmir but also in Jammu, Poonch Rajouri, and across J&K".
The figures of investment or economic boom are only "paper figures", Ramesh alleged.
"The underlying sentiment of resentment, now that resentment is not just in Kashmir, that resentment is also in Jammu which I have discovered and also in other parts particularly on matters related to land. Because the biggest fear whether you are living in Jammu or in Kashmir, is of lands, jobs," he said.
There must be some special provision for protecting the land and job rights of people in Jammu and Kashmir which Article 370 did in a way, Ramesh added.
"The most important thing is to make J&K a full-fledged state, have elections here and bring Ladakh under Schedule VI. Difference between schedule VI and a UT (Union Territory) is that elected representatives manage affairs under Schedule VI and in UT, a joint secretary in the ministry of home affairs runs the UT," he said.
Ramesh's remarks come days after a host of DAP's founding members returned to the Congress fold.
Azad had snapped ties with the Congress last year after an over five-decade association with the party and written a long resignation letter, slamming the party's top leadership.
'Cong must be fulcrum of any Oppn alliance for 2024'
On united Opposition, Jairam Ramesh said the Congress has to be the "fulcrum" of any Opposition alliance to take on the BJP in the 2024 general elections as it is the only political force with a pan-India presence.
The Congress general secretary also said in his view the Congress should be preparing to fight on its own in every state in the 2029 general elections.
Ramesh said he would certainly put his weight behind doing another yatra from Gujarat's Porbandar to Arunachal Pradesh's Parshuram Kund this year but the party has to take a call on it eventually.
"I certainly have been giving thought to it. Now whether the party will or not (undertake such a yatra), I cannot say. But ideally when the Bharat Jodo Yatra was thought of in Udaipur, there was also a thinking of moving West to East," said Ramesh, who along with Digvijaya Singh is considered to be the brain behind the Kanyakumari to Kashmir Bharat Jodo Yatra which will culminate on January 30 in Srinagar.
Asked if the Congress would be the fulcrum of an Opposition coalition, especially after the massive cross country march it has undertaken, Ramesh said, "I certainly believe so. It stands to reason as we are the only national political party even today (besides the BJP)."
"We may not be in power in state after state but if you look at the presence in every village, mohalla, block, town, city, you would find Congress workers, Congress families," he said.
The BJP may be in power but in terms of sheer presence, the Congress is the only national political force, Ramesh claimed.
"Just measuring our influence by the number of states we govern or the percentage of votes that we get, is a very narrow perspective. The ideology of the Congress is of the Centre. It is a Centre-Left party. Every party veers around to the Congress point of view, to the middle path, the path of consensus and conciliation," he said.
"So yes, we are the fulcrum. If we are going to take on the BJP, it is only a coalition around the Congress (that can do so)," he said.
Ramesh said ideally he would like the Congress to take on the BJP alone but that may not be realistic in 2024.
"My view is that, for 2029, we should be preparing to fight on our own in every state. But I am realistic that this position may not find favours within my own political party," he said.
He, however, added that in some states, the Congress has given too much space to its allies which is detrimental to organisation building.
Rahul Gandhi's key message has always been to build the organisation first and power will follow but the Congress has reversed that sequence, he said, adding that the former party chief's view is the right one.
"Long years of being in power has been detrimental to the organisational vitality. With the Bharat Jodo Yatra, this (organisational vitality) has gotten a booster and momentum but that has to be sustained," Ramesh said.
"We cannot go back to having conflicts within the organisation between leaders, clashes between different groups. One would expect that after the Bharat Jodo Yatra we have found a higher purpose," he stressed.
The Bharat jodo yatra is a great cause involving a large number of Congress workers and the largeness of the cause must reflect in our behaviour and approach when it comes to a halt otherwise this will just be one episode, Ramesh said.
"I have been saying, this is not an event, it is a movement. So if we want it to be seen as a movement we must treat it as a movement," he said.
Asked about personal ambition affecting the party's prospects in various states and how the Congress would solve Rajasthan's Ashok Gehlot-Sachin Pilot feud, Ramesh said, "This personal ambition and personal goals have been a bane of the Congress. What the Bharat Jodo Yatra has done is that it has brought a sense of collective purpose and solidarity and that is what is needed in state after state, including in Rajasthan."
The organisation has to triumph not individual egos and ambitions as what is good for the organisation will be good for party individuals but what may be good for an individual may not necessarily be good for the party, Ramesh said.
Referring to the Congress organisation as a "sleeping giant", Ramesh said the yatra has certainly giving new hope to it but this is not sufficient as this has just opened an opportunity and now it depends on the organisation on different levels to take forward the momentum that has been generated.
"It (yatra) has been a great booster dose for the organisation and people are talking of the Congress in a different light than they were five months ago," he said.
Talking about Gandhi's image transformation, Ramesh said this was not the cause of the yatra but it was a consequence of the yatra.
Gandhi's image transformation among the people has been a great bonus of the yatra, Ramesh said.
"I think the BJP maligning Rahul Gandhi is not going to stop because their only game is maligning and defamation. But the credibility of what they are doing is far less than what it used to be. There will be few takes of the 'Pappufication' as you call it," he asserted.
He also said there has also been a transformation in terms of the narrative of the Congress.
"There has been a tremendous rejuvenation and revitalisation of the party organisation in the Congress and of course there has been this badly needed correction in the way Mr Rahul Gandhi has been perceived by the public. So these are huge gains made by the Congress party over the last 140 days or so," he said.
The Congress and Gandhi have demonstrated endurance, tenacity, and resilience, while at the same time succeeded in conveying the messages of the yatra – "the threats to our republic due to economic inequalities, social polarisation and political dictatorship", Ramesh said.
No doubt about it that post Bharat Jodo Yatra, it is a completely different Congress than the pre-Yatra Congress, he said.