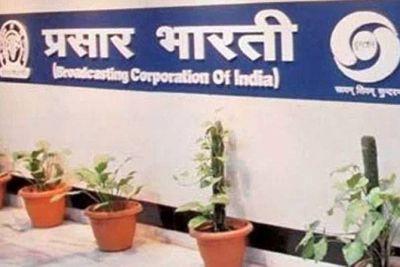 I&B Ministry, Prasar Bharati are in tussle over ministry's directives, reports Shreya Jai and Arindam Majumder.
Calling the directives of the ministry of information and broadcasting contempt of the Prasar Bharati Act, 1990, the board of the public broadcaster has put aside all the instructions it has given.
The board did not accede to the ministry's proposal to hire two journalists working for private media houses.
It said the ministry had been pressuring the board to hire the two journalists but the problem was that the compensation they asked for ranged from Rs 7.5 million to Rs 10 million a year.
"The highest compensation paid to contractuals in Prasar Bharati is about Rs 160,000 a month. To jump from that to Rs 10 million a year cannot be justified. The search committee would like good media professionals to be hired, but the issue is cost. We are a public corporation. Can we hire professionals at Rs 10 million?" said a source close to the development.
On the ministry's communication on terminating the services of all contractual employees, the board has taken strong exception to the language used in the letter.
"It sought to question the wisdom of the Prasar Bharati board on these appointments," an official said.
He further said the board was of the opinion that the ministry should withdraw the directives because they were in contempt of the act governing the body. The ministry "seems to have forgotten that the Prasar Bharati is an autonomous corporation".
The board also did not heed another suggestion of the ministry of having a serving IAS officer as member (personnel).
"The proposal mooted by the ministry was dropped. The Prasar Bharati Act would be violated and office of the vice-president denigrated," he said.
Business Standard reported on Thursday discontent was brewing at the top level of Prasar Bharati over the ministry instruction on appointing an IAS officer member (personnel).
The member (personnel) is responsible for human resources and administrative decisions of the body and has representation on the board.
The Prasar Bharati Act doesn't allow a serving bureaucrat in core management positions, which are chief executive officer, member (finance), and member (personnel), all full-time jobs.
The ministry wanted to make an exception to the rules.