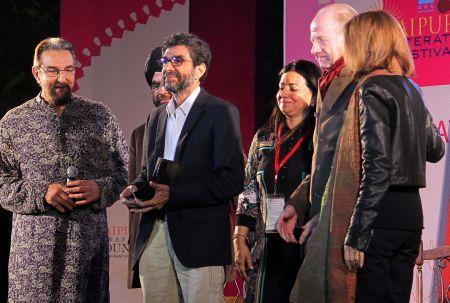 Reticent author Cyrus Mistry on Saturday beat off stiff competition from five other writers to become the fourth winner of the $50,000 DSC prize for South Asian literature for his book "Chronicle of a Corpse Bearer".
The prize is given to the best work or translations of a work on or about the South Asian region. Last year the award was won by Jeet Thayil for his debut novel "Narcopolis".
Mistry was presented with the award at a ceremony at the Jaipur Literature Festival on Saturday evening by Gloria Steinem.
"I have tried to keep myself as detached as possible with the possibility of winning this prize, so am not so enthusiastic but happy about the win," Mistry said after receiving the award.
Other books in the running were "Anand: Book of Destruction" (Translated by Chetana Sachidanandan) "Benyamin: Goat Days" (Translated by Joseph Koyippalli), Mohsin Hamid: "How to Get Filthy Rich in Rising Asia", "Nadeem Aslam: The Blind Man's Garden" and Nayomi Munaweera: Island of a Thousand Mirrors.
Noted writer, editor and literary critic Antara Dev Sen chaired the five member jury which first announced a long list of 15 names and then came up with a shortlist of six from which Mistry was chosen.
Mistry's book is a story of marginalised community and looks at larger questions about life and death, which makes it a different read.
Set in the city of Mumbai, it revolves around the lives of a hardly heard of and rarely-seen set of people, corpse bearers or Khandhias within the Parsi community. Their job is to carry bodies of the deceased to the Towers of Silence.
The jury comprised of Arshia Sattar, Ameena Saiyid, Rosie Boycott, and Paul Yamazaki.
The shortlist was announced in November last year.
Playwright, journalist and author Cyrus Mistry dedicated the award to his sister. "I would like to dedicate the award to my sister Feroza Mistry who is in US and is very ill. I am certain that she will recover soon but she has always believed in my capabilities, so I would dedicate this to her," said the author.
The $50,000 DSC Prize along with a unique trophy was awarded to Mistry who is the second Indian to win the award.
The DSC had received 65 entries this year with participation from publishers in South Asia, UK, USA, Canada and Australia amongst others.
The DSC Prize for South Asian Literature, which is specifically focused on South Asian writing, is unique in the sense that it is not ethnicity-driven in terms of the author's origin and is open to any author belonging to any part of the globe as long as the work is based on the South Asian region and its people. The last three years have had winners from three different countries in South Asia further reflecting the importance of South Asia's rapidly expanding book market.
"I did not want to assume that I will win it. Though many people like the book but I did not want to catch my chickens before they were hatched..." Cyrus said.
Announcing the winner, Jury Chair Antara Dev Sen said, "Cyrus Mistry's book is a deeply moving one, exquisitely drawn on a small, almost claustrophobic canvas... A fantastic storyteller, Mistry offers a beautiful novel rich in historical detail and existential angst, gently questioning the way we look at justice, custom, love, life and death."
Mistry had first published his first novel "The Radiance of Ashes", in 2005. His play, "Doongaji House", written when he was 21, has acquired seminal status in contemporary Indian theatre in English. One of Mistry's short stories, "Percy", was made into a Gujarati feature film.
"The decreasing numbers of the Parsi Community is of concern to me and to Paris of course. Because there is an orthodox set up in the community too, which doesn't allow people to convert to zoroastrianism or be a part of the community," the author said on Saturday.
Previously the DSC Prize has been won by H M Naqvi from Pakistan for "Home Boy" and Shehan Karunatilaka from Sri Lanka for "Chinaman". Each of these winners has gone on to be published internationally and their work has reached a larger global audience.
With inputs from Shahnawaz Akhtar in Jaipur
Image: Cyrus Mistry receiving the award at the Jaipur Literary Festival on Saturday evening
Photograph: Chandra Mohan Aloria