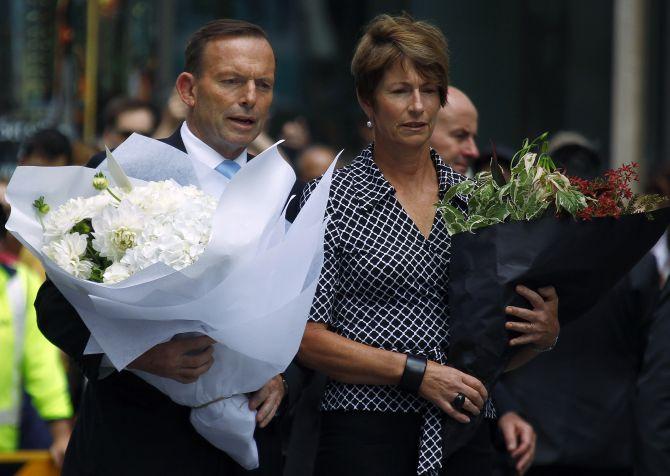 Prime Minister Tony Abbott on Tuesday led a shocked nation in mourning the death of 2 Australians who lost their lives at the cafe siege in Sydney that ended with the killing of lone Iranian-born ISIS sympathiser who took 17 people hostages, including 2 Indians.
Abbott along with his wife visited the Martin Place Lindt Chocolat Cafe and paid floral tributes.
He wrote message on the condolence book at the siege site that has now turned into a makeshift shrine memorial.
Hundreds of people also paid floral tributes to the victims at the Martin Place with flowers, candles. They also wrote messages on the condolence book.
Barrister and mother of 3 Katrina Dawson, 38, and Lindt cafe manager Tori Johnson, 34, were killed along with 50-year-old gunman on Monday.
"Our hearts go out to the families of Katrina Dawson and Tori Johnson. These were decent, good people, who were going about their ordinary lives," Abbott said after laying flowers with wife Margie in Martin Place.
New South Wales Premier Mike Baird said, "What you are seeing in Martin Place right now as it unfolds, it is almost as if a beating heart of the city is being put in place. It is showing us that this city is alive."
Earlier, Prime Minister Abbott described the violent siege as a "brush with terrorism" and said the perpetrator had used the symbolism of Islamic State, an Al-Qaeda splinter group which has seized swathes of territory in Iraq qnd Syria.
Abbott said it would take time to clarify exactly what happened. He said the man behind the siege, Man Haron Monis, was infatuated with extremism and mentally unstable.
"He had a long history of violent crime, infatuation with extremism and mental instability," Abbott said. "As the siege unfolded ... he sought to cloak his actions with the symbolism of the ISIL death cult."
Abbott said that the gunman had sent offensive letters to the families of Australian soldiers killed in Afghanistan and was found guilty of offences related to this.
"We also know that he posted graphic extremist material online," he said, adding that "there are people in our community ready to engage in politically motivated violence."
The hostage drama ended late last night with the police storming the cafe, resulting in 3 deaths but two Indians who were among the captives escaped safely.
Meanwhile, an independent probe into the siege has begun and will continue around the clock, NSW Police Deputy Commissioner Catherine Burn has said. "It has been a difficult situation, it has been demanding, it has been complicated," she said.
The independent probe has been named 'Operation Hammerhead' and will be led by homicide officers and overseen by the Professional Standards Command.
"We have to be completely meticulous about what it is that we do," Burn said, adding extra police will be patrolling public and transport hubs.
"Hammerhead will continue over Christmas and into the lead up into New Years," she said.
She urged the public to go about their business as usual.
Dozens of Muslim groups also issued a joint statement expressing their sadness at the tragic end to the siege.
It said the Muslim community's thoughts and prayers went out to the families of those who lost loved ones.
"We pray for the speedy recovery of all those injured and traumatised by this incident," Grand Mufti of Australia Ibrahim Abu Mohammed said.
Commonwealth agencies will continue to provide every support to New South Wales authorities, Prime Minister Abbott said, adding that National Security Committee of Cabinet will meet shortly to review the situation.
Image: Australian Prime Minister Tony Abbott and his wife Margie prepare to place floral tributes near the cafe in central Sydney. Photograph: David Gray/Reuters
© Copyright 2021 PTI. All rights reserved. Republication or redistribution of PTI content, including by framing or similar means, is expressly prohibited without the prior written consent.