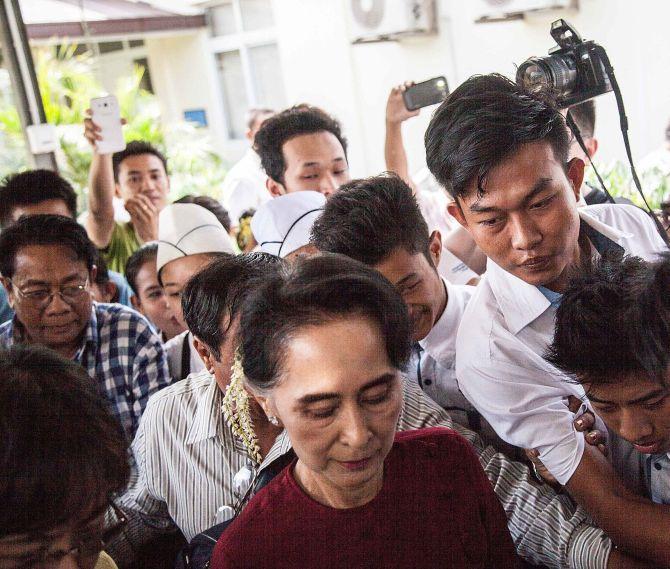 Myanmar is set to get a new government after holding its first democratic national election on Sunday, as Aung San Suu Kyi's National League for Democracy defeated the ruling military-backed Union Solidarity and Development Party.
Myanmar's ruling party conceded defeat to Suu Kyi's NLD.
Suu Kyi, the 70-year-old opposition leader known internationally for her resistance to the military rule, had earlier hinted at her party's victory on Monday.
Former ruling party chair Shwe Mann had already conceded defeat to the NLD.
Suu Kyi's supporters were jubilant on Monday even though she filed a complaint saying a change in procedure by the country's election commission could delay results and "violates the law".
Although more than 90 parties contested, the main fight was between Suu Kyi's National League for Democracy and the ruling Union Solidarity Development Party, made up largely of former junta members. A host of other parties from ethnic minorities, who form 40 percent of Myanmar's 52 million people, are also running.
Ballots are being counted as tens of thousands of polling stations across the country, and results will be relayed by party representatives to their headquarters where a master tally will be kept. The results will also be sent to the central election commission, which will announce them, as they arrive, on Monday.
After taking power in 1962, the junta first allowed elections in 1990, which Suu Kyi's party won overwhelmingly. A shocked army refused to seat the winning lawmakers, with the excuse that a new constitution first had to be implemented — a task that ended up taking 18 years amid intense international pressure. New elections were finally held in 2010, but they were boycotted by the opposition, which cited unfair election laws.
Image: Aung Sun Suu Kyi visits the hospitality training school that was built by the Daw Khin Kyi Foundation in her constituency of Kaw Hmu during Myanmar's first free and fair election. Photograph: Lauren DeCicca/Getty Images