Gangster-politician Atiq Ahmad was brought back to the Sabarmati Central Jail in Ahmedabad amid tight security on Wednesday evening, a day after a court at Prayagraj in Uttar Pradesh sentenced him to life imprisonment in the 2006 Umesh Pal kidnapping case.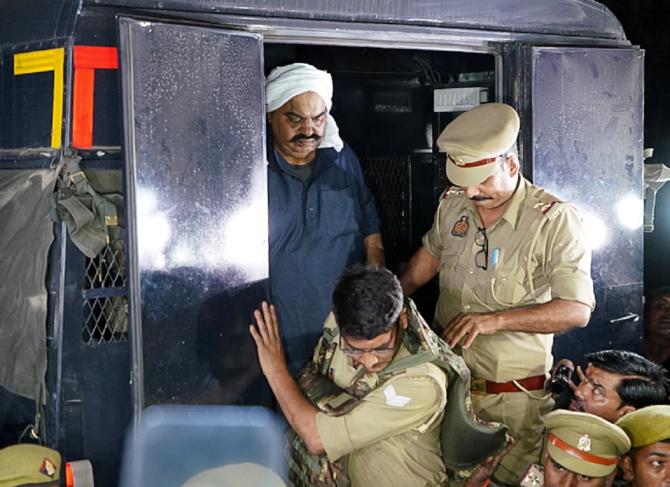 Ahmad, a former Uttar Pradesh MLA and Lok Sabha MP, was brought back to the high-security jail in Gujarat in a UP police van after a nearly 24-hour-long road journey from Prayagraj.
The UP police had on Sunday taken the 60-year-old gangster-politician to Prayagraj, his hometown, for production in a special MP-MLA court, which conducted trial in the 2006 kidnapping case.
The special court on Tuesday held Ahmad and two others -- lawyer Saulat Hanif and Dinesh Pasi -- guilty in the 17-year-old case and sentenced them to life imprisonment. The three were pronounced guilty under Indian Penal Code section 364-A (kidnapping or abduction in order to murder.
The former Lok Sabha MP was kept in the Naini Central Jail in Prayagraj after he was brought from Ahmedabad for court appearance.
Ahmad has been lodged in the Sabarmati Jail since June 2019 after the Supreme Court in April that year directed that the former MP from Phulpur in UP be shifted to a high-security facility in Gujarat after he was accused of orchestrating the kidnapping and assault on a real estate businessman, Mohit Jaiswal, while lodged in a prison in the northern state.
The former Samajwadi Party legislator is named in more than 100 criminal cases, and recently he was listed as an accused in the killing of Umesh Pal, a key witness in the 2006 BSP MLA Raju Pal murder case. Umesh Pal was gunned down in Prayagraj on February 24.
Early this month, the former MLA had moved the Supreme Court for protection, claiming he and his family have been falsely "roped in" as accused in the Umesh Pal murder case and he may be killed in a fake encounter by the Uttar Pradesh Police.
In his plea, Ahmed said the Uttar Pradesh Police were in all likelihood seeking his transit remand and police custody to take him from Ahmedabad to Prayagraj and he "genuinely apprehends he may be eliminated during this transit period".
UP Chief Minister Yogi Adityanath had last month charged the Samajwadi Party with garlanding gangsters like Ahmad and said in the state Assembly that "mafia (Atiq Ahmad) ko mitti me mila denge (will destroy the mafia)."
Among the most sensational murders in which Ahmad is allegedly involved was that of Raju Pal, an MLA from the Bahujan Samaj Party who was shot dead in 2005.
Umesh Pal, a key witness in the 2005 murder case, was himself gunned down outside his residence in Prayagraj.
After the murder of the BSP MLA on January 25, 2005, Umesh Pal, then a zilla panchayat member, had told the police he was a witness to the killing.
Umesh Pal had alleged when he refused to retract and buckle under pressure from Ahmad, he was kidnapped at gunpoint on February 28, 2006.
An FIR (first information report) in the kidnapping case was registered on July 5, 2007, against Ahmed, his brother Ashraf and others.
The police had submitted a chargesheet in the special court against 11 people, one of whom later died.
Ahmad and Ashraf are also accused of being a part of a conspiracy, while they were in prison, to kill Umesh Pal.