An MP-MLA court in Prayagraj on Tuesday held gangster-politician Atiq Ahmed and two others guilty in the 2006 Umesh Pal kidnapping case, and sentenced them to life imprisonment.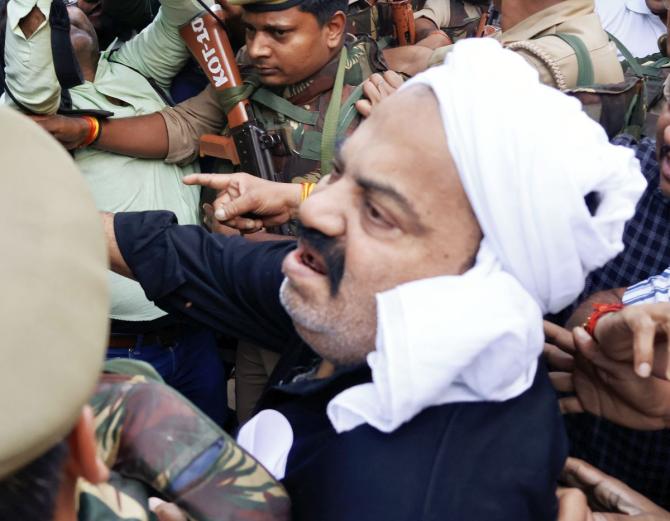 Ahmed's brother Khalid Azim alias Ashraf and six others have been acquitted in the case.
This is Ahmad's first conviction in over 100 cases registered against him over the years.
Government counsel Gulab Chandra Agrahari said special MP-MLA court judge Dinesh Chandra Shukla held Ahmad, Saulat Hanif, a lawyer, and Dinesh Pasi guilty under Indian Penal Code section 364-A (kidnapping or abduction in order to murder).
"The court has awarded the three rigorous life imprisonment and Rs 1 lakh fine to each," Agrahari said, adding that the amount will be given to the family of Umesh Pal, who was gunned down last month.
The two brothers are also accused in the murder case.
After undergoing court formalities, Atiq Ahmad and others were taken back to Naini jail in separate police vans.
In a reply to queries by mediapersons, Ahmad said from inside the police van, "I have respect for the court...this is wrong punishment (saja galat hui hai)... I will move the high court against it."
Earlier, when Ahmad and Ashraf were produced in the court, a number of lawyers raised slogans of phansi do (give them capital punishment).
Ahmad's counsel Dayashankar Mishra said they have the right to appeal and they will approach the High court against the conviction.
He said Ahmad will be kept in Sabarmati Jail (Ahmedabad) in accordance with the Supreme Court's decision.
In her reaction to the judgement, Umesh Pal's mother Shanti Devi said she has full faith in the country's judiciary, but expressed apprehension Ahmad "could do anything from inside the jail".
"I request the court to award him capital punishment for getting my son killed," she said, but added she won't challenge the Tuesday's court order.
"My son fought like a lion. He was awaiting judgement in this case. He was sure that Ahmad would get punished in the case. But he (Ahmad) got him (Umesh Pal) killed. We will not challenge today's court order. I want to request the CM to take care of us as we have on one with us," she said.
Reacting on the court's judgement, deputy Chief Minister Brajesh Pathak said the state government was running a campaign against crime and criminals and taking up their cases in courts for conviction.
"Our government is committed to check crime and curb criminals. We are taking up cases in courts to ensure conviction. No one will be allowed to play with law and order, which is our top priority," he said.
Additional director general, law and order, Prashant Kumar said the state government has zero tolerance towards mafia and they are being identified irrespective of their area of operation, caste and religion.
"The anti-mafia task force of the state police is directly monitored by the DGP. In the past few years, illegal properties worth Rs 2,827 crore of such mafias were either seized of demolished. This is for the first time Atiq Ahmed was convicted by any court due to evidence, witnesses and prosecution officers of the state government," he said.
"All police personnel of the state are committed to demolishing the economic empire of the mafia. In the days to come, we will ensure punishment to all such mafias by taking up their cases in courts effectively," Kumar said.
The kidnapping case against Ahmad, Ashraf and nine others emanates from the murder of then Bahujan Samaj Party MLA Raju Pal on January 25, 2005. Umesh Pal, who was then a zila panchayat member, had told the police that he was a witness to the murder.
Pal later alleged that he was kidnapped at gunpoint on February 28, 2006 as he refused to retract under pressure from Ahmad.
An FIR was registered against Ahmad, his brother and nine others on July 5, 2007. The police had submitted a chargesheet in the matter against the 11 people. One of them later died.
Ahmad and Ashraf are also accused of being involved in a conspiracy, while they were both in prison, to kill Umesh Pal. Umesh Pal was gunned down outside his Prayagraj residence on February 24 last.
In the murder case, Umesh Pal's wife Jaya filed a case at the Dhoomanganj police station in Prayagraj against Ahmad, his brother, his wife Shaista Parveen, two sons, aides Guddu Muslim and Ghulam, and nine others.
Earlier in the day, Ahmad, Ashraf and others were brought to the court from Naini jail in separate police vans and produced before the judge amid tight security.
The two brothers were on Monday brought to the Naini Central Jail here after long road journeys from two separate prisons.
Pal's wife Jaya earlier said she won't be going to the court but will "pray" that Ahmad gets capital punishment.
"I will be in my house and pray for capital punishment for Ahmad. If they get life imprisonment, they will continue to do the same things that they did with my husband," she told reporters.
Ahmad, a former Samajwadi Party MP from Phulpur, was shifted to the Sabarmati Central Jail in Gujarat in June 2019 following a Supreme Court order after he was accused of orchestrating the kidnapping and assault of real estate businessman Mohit Jaiswal while in prison in Uttar Pradesh.
He is named in more than 100 criminal cases, including the Umesh Pal murder case, police said..
© Copyright 2023 PTI. All rights reserved. Republication or redistribution of PTI content, including by framing or similar means, is expressly prohibited without the prior written consent.