Union minister Ramdas Athawale on Tuesday said the Republican Party of India-Athawale headed by him has demanded a ministerial berth in the Maharashtra cabinet whose expansion is on the anvil.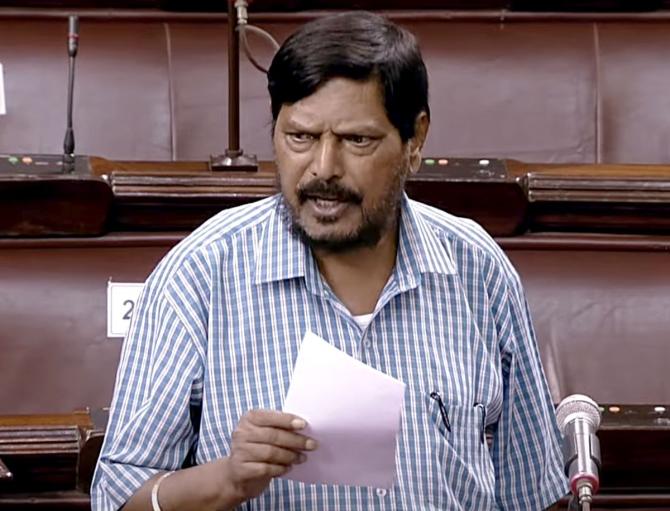 He said the RPI-A will also demand tickets to contest at least two Lok Sabha seats (out of the total 48 in Maharashtra) and 10 to 15 assembly segments in the 2024 elections from the National Democratic Alliance quota.
"RPI-A should get a ministerial berth in the next cabinet expansion in Maharashtra. I had discussed the same with deputy chief minister Devendra Fadnavis. I will meet him again. I feel we should also get an opportunity to share power," the Union minister of state for social justice told reporters in Nagpur.
The expansion of the council of ministers is eagerly awaited among members of the ruling Bharatiya Janata Party and Shiv Sena.
On August 9 last year, 18 ministers were inducted in the Shinde-Fadnavis government after it came to power in June, while as per rules the council of ministers in the state can have a maximum of 43 members.
Earlier in the day, Maharashtra minister and Shiv Sena leader Shambhuraj Desai had said the much-awaited expansion of cabinet will take place before the state legislature's monsoon session or even before that.
Athawale, whose party is a constituent of Bharatiya Janata Party-led NDA, also said RPI-A would contest the upcoming elections to municipal corporations and Zilla Parishads in Maharashtra in alliance with BJP and Shiv Sena, led by Chief Minister Eknath Shinde.
"I would try to ensure that RPI-A gets tickets to contest at least two to three Lok Sabha seats and 10 to 15 Vidhan Sabha constituencies in Maharashtra," he added.
The RPI-A wields influence in some pockets dominated by Dalit voters in Maharashtra.
Responding to a query, the Dalit leader said he would like to contest from the Shirdi Lok Sabha constituency in the 2024 polls.
Athawale, a Rajya Sabha member, termed the Odisha train crash as a very unfortunate incident which should not be politicised by the Opposition.
When asked about Congress leader Rahul Gandhi's statements in the United States, Athawale said it is not proper to continuously criticise Prime Minister Narendra Modi outside India without any reason.
Athawale also informed about RPI-A is working towards reviving the Dalit Panther Party.