Launching a fresh attack on the Bharatiya Janata Party, Congress leader Rahul Gandhi has said that the ruling party follows 'an ideology of hatred and violence', and at the heart of their ideology is 'cowardice'.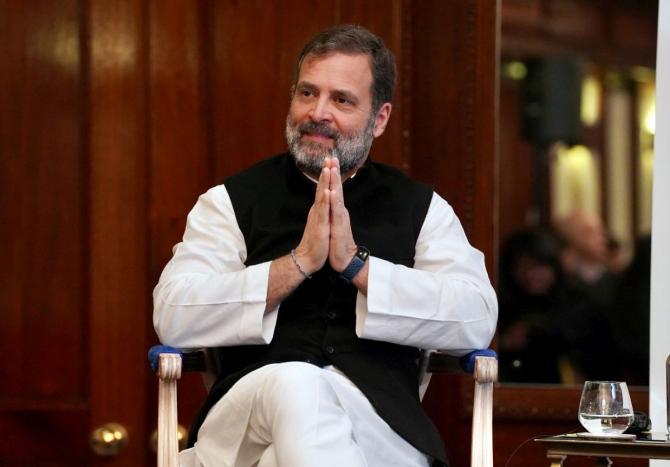 Gandhi made the remarks during his interaction with the Indian diaspora organised by the Indian Overseas Congress (IOC) United Kingdom chapter on Sunday while referring to External Affairs Minister S Jaishankar's remarks on China during an interview.
Referring to the BJP, the 52-year-old former Congress president said they have 'an ideology of hatred and violence, a disrespectful ideology that attacks people because of their ideas. And you must have noticed one thing that this is in the nature of BJP and the RSS'.
"If you notice the statement of the Foreign Minister, he said China is much more powerful than us. To think China is more powerful than us, how can I pick a fight with them? At the heart of the ideology is cowardice," he said, referring to External Affairs Minister S Jaishankar's remarks during an interview.
Gandhi further said that V D Savarkar has written in his book that once he and his friends beat up a Muslim man and that day they felt great happiness.
"So if five people beat up a man and one person is experiencing happiness, then this is cowardice only. If you want to fight then go fight single-handedly," he added.
The BJP has accused Gandhi of maligning India on foreign soil while praising China.
Union Minister Anurag Thakur on Monday hit out at Gandhi for his remarks and asked the Congress leader not to betray the nation.
"Don't betray India, Rahul Gandhi ji. The objections to India's foreign policy is an evidence of your scant understanding of the issue. No one will believe the lies you spread about India from foreign soil," Thakur told reporters in New Delhi.
Thakur said Gandhi has resorted to 'maligning India' from foreign soil as part of a conspiracy to hide his failures.
"Rahul Gandhi has become a storm of controversies. Be it foreign agencies, foreign channels or be it foreign soil. He does not lose a single opportunity to malign India," Thakur said.
"His language, his thoughts, his style of functioning. Everything is suspect. This is not the first time, he has done it time and again. When the COVID-19 pandemic struck, he raised questions on India's vaccines," Thakur said.
BJP's IT department head Amit Malviya said, "Rahul Gandhi is not just delusional but devious in a mutilated manner. His ideas are dangerous for India's sovereignty."
Gandhi's earlier remarks at Cambridge University that Indian democracy is under attack and several politicians, including himself, are under surveillance, has triggered a political slugfest with the BJP accusing him of denigrating India and asking if Gandhi was working as an agent on the payroll of an agency to bring down the country.
He is set to conclude his UK tour this week with an event in the House of Commons complex hosted by UK Opposition Labour Party veteran Indian-origin MP Virendra Sharma and will also address the Chatham House think tank in London on geopolitical issues.
© Copyright 2023 PTI. All rights reserved. Republication or redistribution of PTI content, including by framing or similar means, is expressly prohibited without the prior written consent.