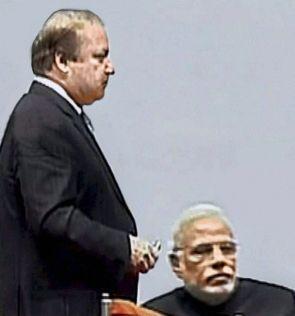 They shared the dais but other than a formal handshake, there was no exchange of courtesies between the prime ministers of India and Pakistan during the nearly three-hour South Asian Association for Regional Cooperation summit in Kathmandu on Wednesday.
Prime Minister Narendra Modi and his Pakistani counterpart Nawaz Sharif, who were sitting two seats away from each other, did not look at each other even when Sharif went across both before and after delivering his speech at the 18th meeting of the eight-member regional bloc.
The leaders of Maldives and Nepal were seated between Modi and Sharif.
Though there is no "structured" meeting scheduled between the two leaders, a brief exchange of pleasantries was expected given that they would be attending the same conference and the retreat on Thursday.
While on Tuesday Sharif had sought to put the ball in India's court for an initiative for talks, saying "cancellation of talks was New Delhi's unilateral decision," and "the ball is now India's court for talks between both the countries", India maintained that it was for "meaningful dialogue" which involves specifics.
"We have been shouting from the rooftops that we are ready for meaningful dialogue. The emphasis was on meaningful, a meaningful dialogue has a meaning in diplomacy. In Pakistan, they know very clearly what we mean by meaningful dialogue as they know us and understand us. They know everything," external affairs ministry spokesperson Syed Akbaruddin said when asked about Sharif's remarks.
Image: Prime Minister Narendra Modi and Pakistan PM Nawaz Sharif at the SAARC summit. Photograph: PTI photo