The former President shared 'his understanding of nation, nationalism and patriotism' at Sangh headquarters in Nagpur.
Warning that hatred and intolerance diluted national identity, former President and Congress veteran Pranab Mukherjee on Thursday spoke from an Rashtriya Swayamsevak Sangh platform to declare nationalism was not bound by race or religion, as he called for dialogue to reconcile differences.
As his visit to the RSS headquarters in Nagpur to address the new recruits of the organisation sparked criticism from some Congress leaders including his daughter, Mukherjee, 82, cautioned that any attempt to define India through 'religion, dogma or intolerance' will only dilute the country's existence.
Declaring that India's soul resides in pluralism and tolerance, Mukherjee said he is convinced that nationalism can only come out of the ideological fusion of Hindus, Muslims, Sikhs and other groups in India.
He also called for freeing public discourse from fear and violence.
"Every time a woman or child is hurt, the soul of India is wounded."
Dressed in a traditional dhoti, kurta and a black waist coat, Mukherjee said people are at the centre of all activities of the State and that nothing should be done to divide them.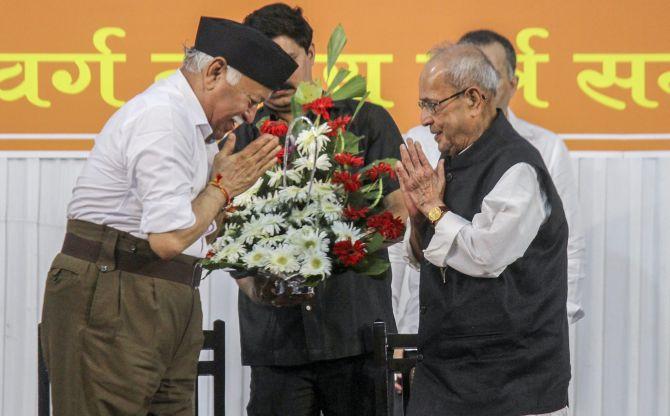 "The aim of the State should be to galvanise them to fight a concerted war against poverty, disease and deprivation. Only then can we create a nation where Nationalism flows automatically," he said.
Asserting that India's identity has emerged through a long-drawn process of confluence, assimilation and co-existence, Mukherjee made a passionate speech on 'nation, nationalism and patriotism' in the context of Bharat that lasted nearly 30 minutes.
"From our Constitution, flows our nationalism. The construct of Indian nationalism is constitutional patriotism, which consists of an appreciation of our inherited and shared diversity... Secularism and inclusion are a matter of faith for us. It is our composite culture which makes us into one nation."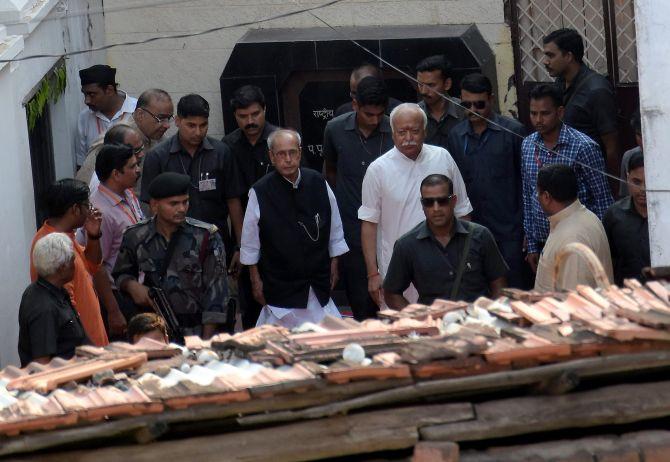 Mukherjee's message to hundreds of 'pracharaks' and top-brass of the RSS, which is often described as a Hindu right-wing organisation, was described as a 'mirror of truth to the RSS' by the Congress, whose several leaders have so far been critical of his decision to attend the event at the Sangh headquarters.
At the same time, the Hindutva leaders including S Gurumurthy said Mukherjee talked about nationalism not being limited to any religious identity, which was the same message delivered by the RSS chief Mohan Bhagwat.
In an apparent reference to the 'one-nation-one-culture ideology' often identified with the RSS, Mukherjee said India's nationhood is not 'one language, one religion and one enemy'.
"It is 'perennial universalism' of 1.3 billion people who use 122 languages and 1600 dialects...practice seven major religions... live under one system, one flag and one identity of being Bhartiya and have 'no enemies'. That is what makes Bharat a diverse and united nation," he said.
Mukherjee, who served as President of India between 2012 and 2017, said, "Every day, we see increased violence around us. At the heart of this violence is darkness, fear and mistrust. We must free our public discourse from all forms of violence, physical as well as verbal."
In remarks that come amid outrage over incidents of rapes including of minors, he talked about 'soul of India' getting wounded, every time a child or woman is brutalised and 'manifestations of rage are tearing our social fabric'.
Mukherjee said only 'a non-violent society' can ensure the participation of all sections of people in the democratic process, especially the marginalised and dispossessed.
"We must move from anger, violence and conflict to peace, harmony and happiness," he said.
WATCH: Mukherjee visits RSS founder K B Hedgewar's birthplace
Mukherjee also talked about thousands years of Indian history, including the rules of various dynasties, Muslim invaders, a mercantile company and then the British Empire.
He quoted from works of Jawaharlal Nehru, Rabindra Nath Tagore, Bal Gangadhar Tilak, Surendranath Banerjea and others and praised Sardar Vallabhbhai Patel for uniting India by bringing the princely states into the main fold.
Speaking ahead of Mukherjee's speech, Bhagwat said Mukherjee will remain what he is and the Sangh will remain the Sangh even after the event.
Bhagwat said his organisation wants to unify the entire society and no one was an outsider for it.
People may have different views but they are all children of mother India, he said.
Bhagwat said the Sangh has inviting prominent people to its event every year.
Those present at Thursday's event also included former prime minister Lal Bahadu Shastri's son Sunil Shastri, as also Netaji Subhash Chandra Bose's nephew Ardhendu Bose along with his wife and son.
Earlier in the day, Mukherjee described Hedgewar as a 'great son of Mother India' as he visited the birthplace of the RSS founding Sarsanghachalak.
"Today I came here to pay my respect and homage to a great son of Mother India," Mukherjee wrote in a visitor's book at Hedgewar's birthplace ahead of his much-anticipated speech at the RSS headquarters in Nagpur.
Mukherjee had to walk through narrow lanes to reach the house where Hedgewar was born and also removed his shoes before entering the place.
Mukherjee, who reached Nagpur on Wednesday evening, has been invited by the RSS to address its Shiksha Varg and attend a parade by the Sangh workers on completion of the training camp.
It is an annual training camp, meant for swayamsevaks in their third year in the organisation. The RSS holds training camps for first, second and third-year swayamsewaks.
Mukherjee's decision to attent the RSS event has already triggered a major political slugfest with several Congress leaders criticising his decision.
Senior Congress leader Ahmed Patel today expressed his disapproval at former president Pranab Mukherjee visiting the RSS headquarters in Nagpur and said he did not expect this from him.
Mukherjee's daughter and Congress leader Sharmistha had on Wednesday said her father was giving the Bharatiya Janata Party and the Sangh a handle to plant false stories with his decision to speak at the RSS event.
His 'speech will be forgotten' but the 'visuals will remain', she said on Twitter. She also expressed the hope that the former president would realise how the BJP's 'dirty tricks department' works and warned him of the consequences of attending such a meet.
Some Congress leaders, including Jairam Ramesh and C K Jaffar Sharief, also wrote to him, while a few leaders of the party, including Anand Sharma, personally visited him in a bid to dissuade him from going to Nagpur.