At least nine people were killed and another 20 wounded on Friday when a gunman went on a horrific shooting spree at a United States community college before he was shot dead by police, in yet another carnage that prompted US President Barack Obama to voice outrage over lax gun-control laws.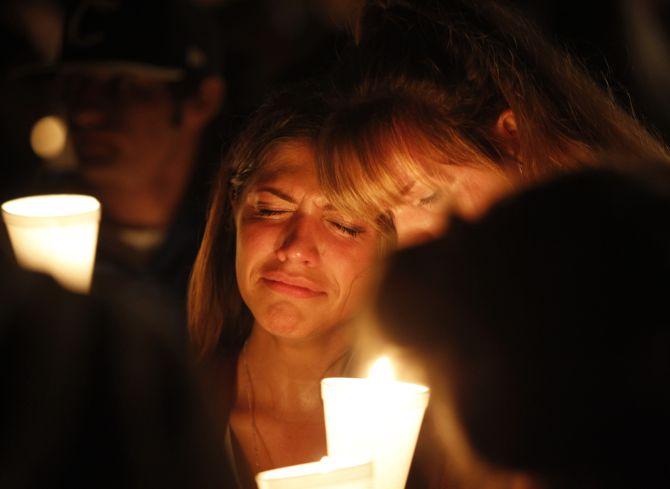 People take part in candle light vigil following a mass shooting at Umpqua Community College in Roseburg. Photograph: Steve Dipaola/Reuters
The gunman was identified as 26-year-old Chris Harper Mercer by local media, which citing eye-witnesses, reported that he allegedly targeted Christians.
He opened fire at Umpqua Community College in rural Roseburg, about 180 miles south of Portland -- the capital of Oregon -- and then went on to other classrooms gunning down his victims, witnesses said.
The college has some 3,000 students. The police said the motive of the shooter was not known.
US President Obama, who has so far failed to convince the Republican-majority Congress towards a stringent gun-control laws, spilled out his frustrations, saying "our" thoughts and prayers are not enough.
"It's not enough. It does not capture the heartache and grief and anger that we should feel. And it does nothing to prevent this carnage from being inflicted someplace else in America -- next week, or a couple of months from now," he told reporters at the White House.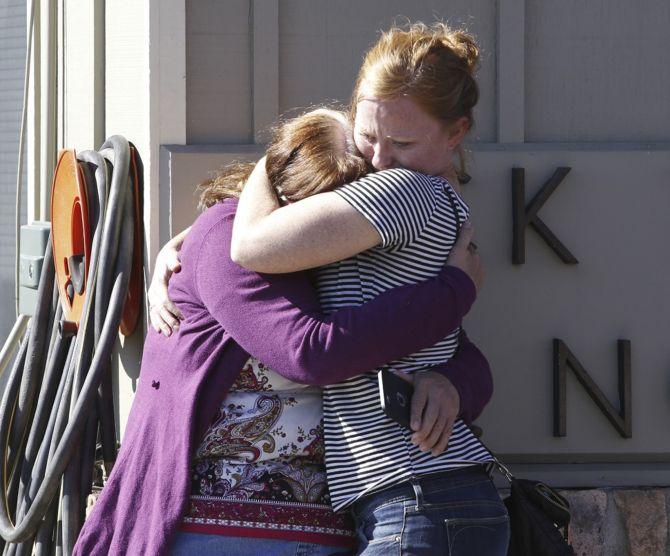 Umpqua Community College alumnus Donice Smith (L) is embraced after she said one of her former teachers was shot dead, near the site of a mass shooting at Umpqua Community College in Roseburg. Photograph: Steve Dipaola/Reuters
In the last seven years, Obama has addressed the nation more than a dozen times on nine different shooting attacks.
"Somehow this has become routine. The reporting is routine. My response here at this podium ends up being routine, the conversation in the aftermath of it. We've become numb to this," Obama said.
A grim-faced John Hanlin, Sheriff of Douglas County, said: "It's been a terrible day."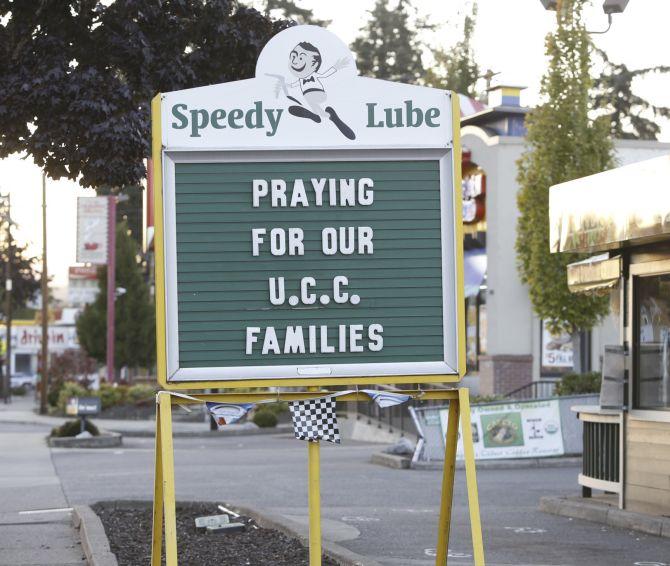 A sign expresses local people's sentiments following a mass shooting at Umpqua Community College in Roseburg. Photograph: Steve Dipaola/Reuters
"Certainly this is a huge shock to our community."
Hanlin said he would not name the shooter. "I will not name the shooter. I will not give him the credit he probably sought prior to this horrific and cowardly act," he said.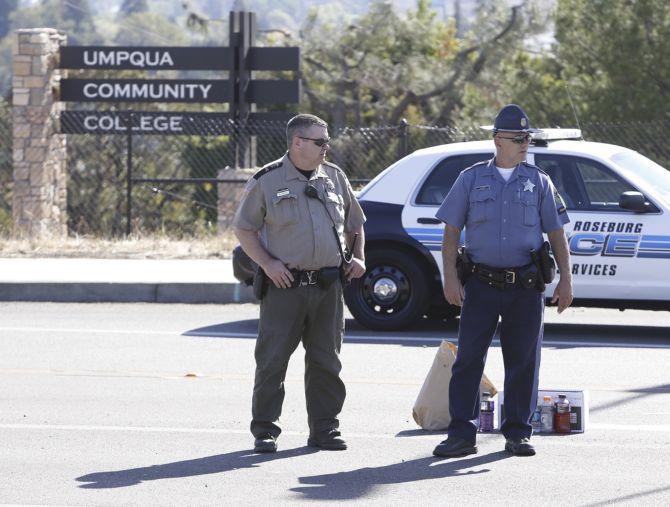 Police officers stand guard near the site of a mass shooting at Umpqua Community College in Roseburg. The gunman was later killed. Photograph: Steve Dipaola/Reuters
Earlier authorities had said 13 people died, but later confirmed the death toll to 10, including the gunman.
The Oregon college shooting is the latest in a series of shootings in the US, including at a Charleston church, Sandy Hook school and Oak creek Gurdwara.
A visibly angry Obama told reporters that it's fair to say that anybody who does this "has a sickness in their minds," regardless of what they think their motivations may be.
"But we are not the only country on Earth that has people with mental illnesses or want to do harm to other people. We are the only advanced country on Earth that sees these kinds of mass shootings every few months," he said.
Obama, who is fighting a tough battle against a strong pro-gun lobby, said there is a gun for roughly every man, woman, and child in America.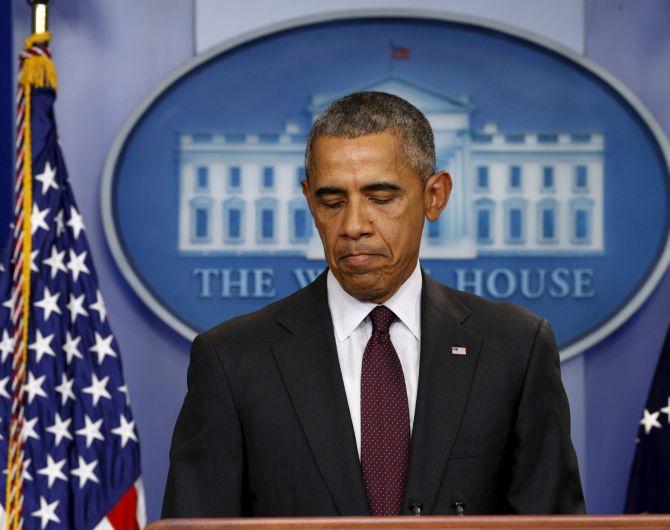 US President Barack Obama makes a statement about the shootings in Oregon from the White House in Washington. Photograph: Kevin Lamarque/Reuters
"So how can you, with a straight face, make the argument that more guns will make us safer? We know that states with the most gun laws tend to have the fewest gun deaths," Obama said.
"So the notion that gun laws don't work, or just will make it harder for law-abiding citizens and criminals will still get their guns is not borne out by the evidence," he said.
Joining Obama in anguish, Democratic presidential candidate Hillary Clinton said the country needs sensible gun-control measures to save lives.
"I am just sick of this. I'm sick about it, and I feel an absolute urgency for this country to start being sensible about keeping guns away from people who should not have them. I'm going to be pushing this issue," she said.
"Universal background checks, a long-enough waiting period so that people can't sneak in under the deadline because the full investigation wasn't completed. I would like us to be absolutely determined, as I am, to try to do something about this," Clinton said.
© Copyright 2022 PTI. All rights reserved. Republication or redistribution of PTI content, including by framing or similar means, is expressly prohibited without the prior written consent.