865 million adults require vaccination to meet the December target.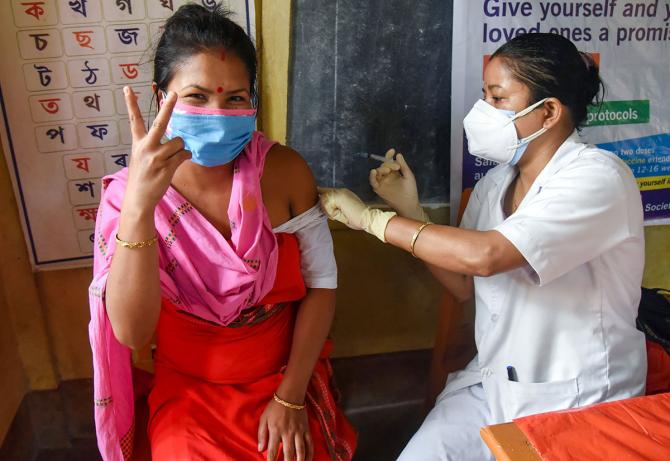 Fully vaccinating India's entire adult population by December looks like an uphill task as current estimates show that even by doubling the daily pace, the vaccination exercise can be completed only by the end of January 2022.
At the current rate, it would take around 15 more months, or September 2022, to vaccinate adult Indians.
There are 865 million adults who require vaccination to meet the December target; according to demographic data from the Department of Economic Affairs May 2021 Monthly Economic Review.
This translates into 1.73 billion vaccine doses, assuming a two-dose vaccination.
About 50 million people have already received two doses of the vaccine. Another 160-170 million people have received one dose.
The government will need to administer another 1.63 billion vaccine doses.
The number of days this takes would depend on the pace of vaccination.
It could take longer than the government estimates, suggests a Business Standard analysis (see chart) of the available data.
It assumed a two-dose vaccine, with no supply issues. The time gap between doses and changes therein, may affect the end dates.
With the supply situation improving, the pace of vaccination has almost doubled since April with India now administering more than 3 million doses a day since early June.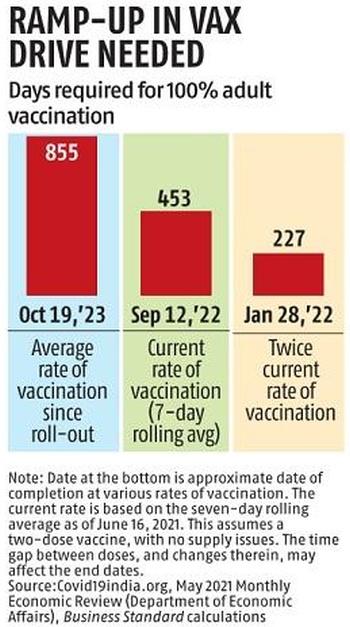 At this rate, it would take about 453 days to administer the remaining doses.
It would take 227 days at twice the current pace to vaccinate everyone.
The end date for vaccination at twice the current rate would be the end of January 2022.
At the current rate, however, adult Indian vaccination can be completed by September 2022.
According to a recent analysis by Citi Research done on the assumption that supplies will see a big jump in the next few months, India will be able to vaccinate the entire adult population of the top 50-odd cities by November and the entire adult population by February 2022.
Similar prediction by YES Securities has said 40 per cent of adult population is likely to be fully vaccinated by November largely through indigenous vaccine output and by March 2022, about 80 per cent of India's adults would be vaccinated.
These reports take into account the current production plans of key vaccine makers and expect the supply and pace of vaccinations to ramp up July onwards.
India has administered over 260 million doses. According to estimates, over 15 per cent of the adult population has received the first dose.
The finance ministry has said assuming herd immunity at 80 per cent, the target population to be vaccinated is 700 million who should be vaccinated by September 2021.
The government has estimated that about 9.3 million vaccinations are required per day to achieve herd immunity. That means, almost tripling the current weekly average per day vaccinations.
The peak daily vaccination rate attained to date is about 4 million.
Experts said this means that more shifts and 24x7 vaccinations would be required to come close to the target.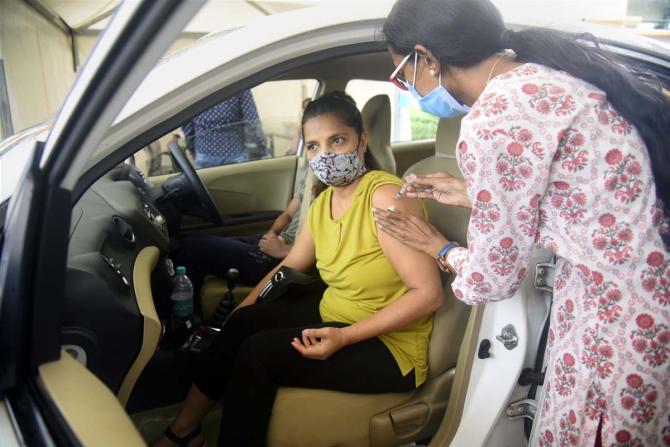 The Citi Research estimate of vaccinations by February 2022 assumes a big jump in the vaccine production over the next couple of months, rising to 9-10 million doses per day by October-December 2022.
The government has projected availability of 2.16 billion vaccine doses between August and December.
Sector analysts, however, estimate 1.5 billion doses of supplies.
Serum Institute of India will make 100 million doses of Covishield a month, the AstraZeneca vaccine by July from the current capacity of 70 million doses a month.
A senior Bharat Biotech official said the company was on track to touch an annual capacity of one billion doses by December through the ramping up happening in Bengaluru, Hyderabad and Ankleshwar.
This would roughly mean a capacity of 83-85 million doses of Covaxin a month up from current estimated 35 million a month.
Add to this Serum Institute's capacity to make Novavax vaccine. The target is to make 50 million doses of Covovax per month.
However, the company has not touched the production target yet after the USFDA approval, and one can expect Covovax in the market by October.
Novavax has said it expected to file for approvals from the USFDA in the third quarter of calendar 2021.
The Centre is expecting 156 million doses of Sputnik V by the year-end, apart from 100 million doses of Bharat Biotech's nasal vaccine, and 60 million doses of the Gennova mRNA vaccine, both of which are still being developed.
The health ministry has placed orders for 300 million doses of Biological E vaccine, which is in phase 3 clinical trials now.
It is placing bets on 750 million doses of Covishield and 550 million doses from Bharat Biotech.
A senior industry analyst shared his projections: "We estimate around 700 million doses of Covishield in the second half of the year, and around 360 million doses of Covaxin as it involves a lengthy manufacturing process."
About 40 million doses of Covovax and 80 million doses of Sputnik V can be expected in the second half of the year, he added.
The Zydus Cadila vaccine is three-dose and hence analysts feel it would not help with much coverage initially.
As for Biological E, the analyst said he feels supplies of 150 million doses is possible -- combining both the Johnson and Johnson and Biological E's own protein subunit vaccine.
"Overall, I see about 1.5 billion doses of vaccine supplies easily in the second half of the year. There would be some imports too," the analyst said.
YES Securities analysts expect that 20-25 per cent of US vaccine exports would head to India, given the demand of its sizeable population.
Of the total vaccine availability, one can assume, about 5-6 per cent would be wasted.
Feature Presentation: Rajesh Alva/Rediff.com