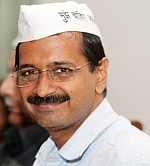 It was drama outside the office of Delhi's power regulator in New Delhi on Monday when two groups -- one led by Bharatiya Janata Party's Vijay Goel and another by Arvind Kejriwal -- assembled there for protest against the power tariff hike.
Goel, who started his protest along with his supporters arrived at around 11 am, invited Kejriwal to his stage but had to face tough questions from the activist who accused the BJP of not taking up the issue seriously.
As Kejriwal walked into the venue, where India Against Corruption activists were also protesting, Goel and BJP workers invited him to the demonstration.
Kejriwal accepted the invitation but took on the BJP accusing it of not making public a Delhi electricity regulatory commission order, which talked about reducing power tariff earlier.
"We have nothing to do with the BJP or the Congress. On the one hand, the Delhi government is hand in glove with discoms. On the other hand, we also have questions for the BJP and we would like to ask Goel some questions.
"Is the BJP not aware of the DERC recommendation in May, 2010 about reducing power tariff? Delhi government halted it. If they were aware of it, why did not they do it for the past one and half years," he said.
Kejriwal alleged that the BJP has a copy of the order but it was not making it public. "Like the Congress, the BJP is also suppressing facts," he alleged.
Goel countered it and said the BJP had raised the issue first. "Whoever will reduce the tariff, I will support them. Even if it is the Congress, I will support the move. Whatever DERC has said, it was BJP who raised it first," he said.
The BJP leader first left the venue and after sometime, Kejriwal also left the place, leaving India Against Corruption's protest to be led by his associates Manish Sisodia and Gopal Rai.