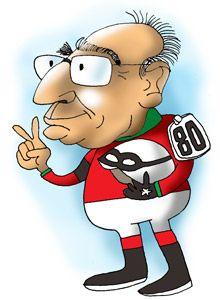 The former Madhya Pradesh chief minister is hoping for a return to power...in Chhattisgarh this time... Illustration: Uttam Ghosh/Rediff.com.
If wishes were horses, Motilal Vora would love to be a jockey!
The 85-year-old Congress leader wants to be chief minister of Chhattisgarh in case the party posts an upset win over the Raman Singh-led BJP regime.
Most pollsters have given Dr Singh the thumbs up for a third term, but the Congress's internal survey claims the party will return to power after a gap of 10 years.
Since former chief minister Ajit Jogi faces opposition within the party and Union Minister Charan Das Mahant does not have enough clout, Vora, the Congress treasurer, fancies his chances.
His logic -- if Vir Bhadra Singh, another 80-plus chief minister -- could be picked for Himachal Pradesh, why not Vora for Chhattisgarh!