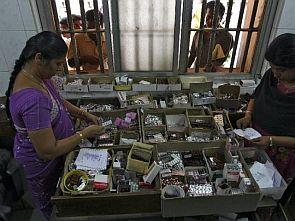 The Chief Minister's Free Medicine Scheme in Rajasthan is probably the most successful scheme introduced by the Ashok Gehlot government in the state.
Under the scheme, the government provided free generic medicines to patients. Annually, medicines worth Rs 300 crore were being purchased by the government for the purpose. As per government records as many as 2.5 people lakh are availing this facility.

"Annually, 22 to 23 lakh patients visit Out Patients Department of the Delhi-based All India Institute of Medical Sciences till October we have received 21 lakh foot-falls. so now we almost similar in terms of number of patients," Sawai Man Singh Hospital Hospital Public Relation Officer Dr Ajit Singh told rediff.com.

Doctors, despite their increased workload, accept that the scheme benefited many patients and overall it has re-established the common man's faith in government hospitals.
Seeing its success, Gehlot government not only increased the number of medicines provided under the scheme from 400 to 600 but also initiated free tests in government hospitals, community health centres and primary health centres.
During polls, all these pointers were enough to help the government get votes and make the opposition jittery.
On October 10, former chief minister Vasundhara Raje termed free medicines as "poison".

Raje claimed that medicines that had crossed the expiry date were being distributed under the scheme.

A war of words erupted.
Several organisations condemned Raje's remarks and Gehlot -- on every platform – raised the issue seeking to know why such a welfare scheme was being termed harmful.

Soon enough, Congress president Sonia Gandhi and party vice president Rahul Gandhi joined issue with Gehlot.

Backing up Raje was BJP's prime ministerial candidate Narendra Modi.
However, amidst the brouhaha over the scheme, social activists are wondering whether the succeeding government would continue the scheme or not.
"We deeply regret that such a scheme has been politicised and both parties are taking on each other over it," said Dr Narendra Gupta of Prayas NGO, who played an important role in the policy of free medicine scheme.
Dr Gupta recalled that few days back Olympian Rajvardhan Singh Rathore, who was campaigning for the BJP, had called him to know about the scheme.
"He asked me about the scheme? And I told him that it is a good scheme and it should be carried forward by any government which comes into power in the future. He seemed convinced," he added.
The doctor could be correct, as unlike Raje, Rathore did not comment on free medicine scheme during his speeches.
"The most important thing is that so far -- in 99.99 cases -- no expiry medicine was found being distributed under the scheme. Also, no patient had said about the ineffectiveness of generic medicines. And most importantly, no patient has died because of it. While several such cases have been reported for branded medicines, so for no reason should it be termed poisonous," he said.