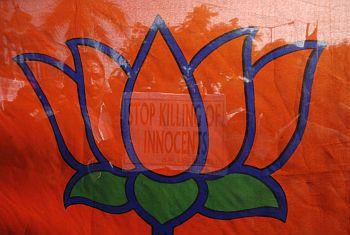 The Bharatiya Janata Party on Wednesday promised loans to farmers and unemployed youth, creation of 15 lakh jobs and quota for Gujjar and other backward communities if voted to power in Rajasthan in next month's assembly election.
Releasing the 60-page "Suraj Sankalp Patra", BJP President Rajnath Singh said people had lost faith in political manifestos released by other parties and hence his party had named it differently.
State BJP chief Vasundhara Raje told reporters that the party would ensure farmers get agriculture loans at 1 per cent interest and unemployed youths get up to Rs 20 lakh loan at 3 per cent to set up business.
It promised to create 15 lakh new jobs in the next five year-term.Power supply would be provided for 24 hours for domestic use and for 8 hours in three phases for farmers, Raje said.
Gujjars, Raika, Rebari (Dewasi), Banjara, Baldiya, Labana, Gardia Luhar and Gadoliya castes would be provided 5 per cent quota as Special-OBC, Raje said. Pakistan refugees living in Rajasthan for decades would be offered housing, employment, education and nationality status and the party would seek the Centre's cooperation in this regard, she said.