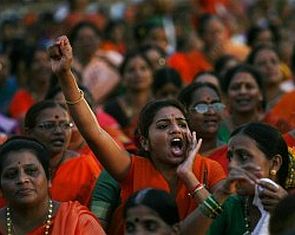 Even as both the ruling Bharatiya Janata Party and Opposition Congress in Madhya Pradesh have been making claims of bringing forward women in politics, the parties have allotted few tickets to them for the November 25 assembly elections.
The Congress has given tickets to 23 women, which is 10 per cent of the total 230 seats in the state, while the BJP has nominated 28 women candidates (about 12 per cent of the total seats).
Notably, Congress leader Shobha Ojha, soon after taking charge as the president of party's all India women's wing, had strongly advocated that at least one woman must be given ticket from each district in Madhya Pradesh.
Though the BJP has given a little more tickets to women, but many of them are from seats which the party has traditionally lost, sources said.
The seats where the party has fielded women candidates include Surkhi, Prithvipur, Indore Three, Sailana, Petlawad, Chachoda and Vijayraghogarh.
BJP spokesman Deepak Vijaywargia said the party has given tickets only to those who are thought to be "winnable."
He stressed that it is not that the party has given tickets to women only for those constituencies where it may lose.
The BJP has given tickets to women leaders like Maya Singh, Archana Chitnis, Yashodhararaje Scindia, Ranjana Baghel, Malini Goud, Nandini Maravi and Meena Singh, he said expressing confidence that they would add to the party's tally.
Madhya Pradesh Mahila Congress unit president Archana Jaiswal said women did not get more tickets as "no woman was member of the party's screening committee for choosing candidates."
Archana said her organisation wanted that at least women be given tickets for constituencies from where the party has traditionally lost, but the party did not even pay heed to it, she lamented.