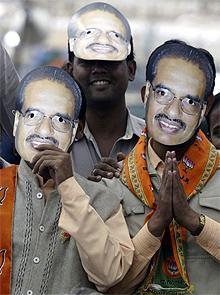 How electioneering hits netas where it hurts the most -- the stomach. Kicking off an Election Diary from the five states electing a new government.
It's election time in five states and the key players are deprived of two key things -- food and sleep.
Madhya Pradesh Chief Minister Shivraj Singh Chouhan has not had a sit-down meal at home for the last 45 days!
His BJP counterpart in Chhattisgarh, Dr Raman Singh, has been surviving on mathha (butter milk) and seera (a mix of milk, honey, almond and atta).
The Congress's face in Madhya Pradesh, Jyotiraditya Scindia, has made a habit of snacking during short chopper rides.
Union Parliamentary Affairs Minister Kamal Nath prefers Diet Coke and keeps chewing gum while campaigning.

Raman Singh, having completed electioneering in Chhattisgarh, is now turning campaigner in Madhya Pradesh where voting will take place on November 25.
Interestingly, neither Raman Singh nor Chouhan are among the BJP's 40 'star campaigners'. According to the BJP list submitted to the Election Commission, only Gujarat Chief Minister Narendra Modi figures as a 'star campaigner'.
Goa Chief Minister Manohar Parrikar was named as a campaigner for Chhattisgarh. Chouhan's name has been included for Rajasthan at the insistence of Vasundhararaje Scindia who wants the Madhya Pradesh CM to chip in for her state after November 25.
So who are the BJP's 40 'stars'? Not surprisingly, it is packed with the likes of Smriti Irani, Hema Malini, Kirron Kher etc.