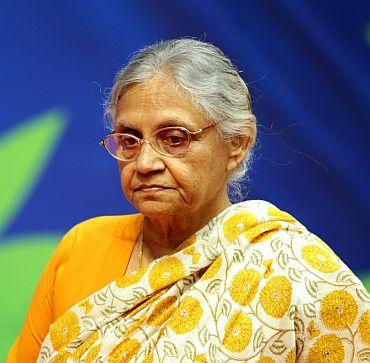 It is unlikely that Delhi's outgoing chief minister will be able to make a comeback in politics. For her, the innings is truly over, writes Pankaj Vohra.

Sheila Dikshit created history by becoming the longest-serving chief minister of Delhi. Her supporters had also started making plans for her to assume a greater role in national politics. Some started projecting her as a possible prime ministerial nominee against Narendra Modi (also a three-time chief minister) while others said she would make an excellent home minister.
However, neither she nor her admirers realised that during the 15 years she was in office, she destroyed the party in Delhi. As a result, the Congress has suffered its most humiliating defeat in the national capital in years and she too appears set to lose her own seat from the New Delhi constituency where she had started taking party workers for granted. In fact, her defeat was the ultimate revenge of the party workers .
Having watched Delhi politics closely over the past more than three and a half decades, the only conclusion one can reach is that despite her extraordinary long tenure, Dikshit could never become the leader of the city in the same manner as Chaudhury Brehm Parkash, Delhi's first chief minister, was or the way HKL Bhagat had his sway over the party and the people, or the manner in which Madan Lal Khurana commanded respect.
Dikshit was lucky and, as her opponents believed, she also enjoyed the support of a faction of the Bharatiya Janata Party. There was clearly a group within the BJP which was not interested in cornering her. Even when accusations of financial irregularities and wrongdoings during the Commonwealth Games were made against her and Dikshit's name figured in the VK Shunglu Committee report, top BJP leaders never raised the matter in Parliament. Instead they diverted attention by keeping the focus on Suresh Kalmadi, the disgraced chief of the Indian Olympic Association.
Dikshit has always been a beneficiary of the huge media support she received throughout her tenure. Her coming on the Delhi stage in 1998 coincided with the rise of the electronic media when people from different parties who could articulate well in Hindi and English started hogging the headlines. Apart from her Sushma Swaraj, Kapil Sibal, Arun Jaitley and Pramod Mahajan all took advantage of the new medium and overnight became national figures. She was quick to realise this and gradually cultivated the image of a grand-mother.
According to many TV anchors, she could do no wrong and some even started promoting her as a good nominee for national politics without realising that the Delhi assembly is a `C' grade assembly and cannot be compared in any manner with the assembly of a full-fledged state. She used her muscle power to deny advertisements to newspapers which did not fall in line and dared to write critical articles on her, and the media apparatus of a big corporate company reportedly backed her to the hilt, often influencing editors and correspondents in the process.
If Dikshit rose to the top, it was because she received unflinching support from the Congress high command, a pre-requisite for anyone to make a mark. Secondly, the super-efficient manner in which she managed the media was an example many aspiring leaders need to follow. Thirdly, the BJP was divided and did not offer her any kind of challenge and in fact contributed to making her the leader she did become.
But there are many myths about her which need to be exploded. She was projected as someone who was invincible and someone who had led her party to three successive terms in the national capital. Dikshit had come to Delhi after losing three successive Lok Sabha polls in Uttar Pradesh and lost her fourth election from East Delhi to Lal Behari Tewari of the BJP in early 1998. Her four losses were rarely reported by the ignorant and gullible media. She was appointed the Delhi Congress chief after Indira Gandhi's political adviser M L Fotedar along with Arjun Singh and K Natwar Singh convinced a reluctant Sonia Gandhi in 1998 soon after the latter became the AICC president.

An unsure Dikshit was totally at a loss during the 1998 campaign but Congress workers enthused by Sonia's entry into politics ensured that that the faction-ridden BJP was defeated convincingly. Dikshit was barely able to win by nearly 5,000 votes and was pushed into the chief minister's chair by Fotedar and company. She assumed office but soon drifted away from Fotedar whose case she did not back for the Rajya Sabha seat in Delhi and instead moved towards his rival Dr Karan Singh after reaching an understanding with the late Madhavrao Scindia. Disillusioned with her, Fotedar distanced himself totally from her.

An astute Dikshit then built bridges with both Atal Bihari Vajpayee and L K Advani whose support she enjoyed even though their party was opposed to her. In 1999, the Congress lost all the seven Lok Sabha seats from Delhi and Sonia told her political advisers Ahmed Patel and Ambika Soni to remove her. They hesitated, and this gave her enough time to mend fences with the party high command. But in 2003, when the BJP projected Madan Lal Khurana for CMship, her allies in the BJP came to her rescue. There was a turf war going on in the Saffron Brigade and Advani, Mahajan and some others thought that if Khurana were to win, Sahib Singh Verma and others will be difficult to cope with.
Though it may sound like a conspiracy theory, but the 2003 polls were lost by the BJP and Dikshit was the beneficiary. And to ensure smooth sailing for her, Khurana, who could have proved inconvenient for her as the leader of opposition, was made the Rajasthan governor and sent to Jaipur. A friendly Jagdish Mukhi, who was often called the eighth minister of the Delhi government, became the LoP.
Many in the Congress objected to her rise but Dikshit was able to marginalise them one by one. In the 2008 elections, she herself was not sure whether she would win but 26/11 took place, three days before the polling. The result was that all minorities in the capital, whether lingual, religious, regional or others, backed the grand old party for security after watching the terror attack coverage live on TV for 72 hours. But she got the credit.

The preparations for the CWG then started and Dikshit was back on top though the cost of projects escalated many times over amid allegations of rampant corruption. The media backed her and continued to give her credit for everything good that was happening without realising how the party was being decimated.

On November 17, when Rahul Gandhi's rally in Dakshinpuri flopped, the realisation started dawning that the party infrastructure had crumbled as the chief minister had assumed a larger than life role. Delhi experts had been predicting since the last two months that she would lose from her own constituency but the media refused to believe it till the Economic Times published a survey to show her poor position.
Dikshit tried to salvage things and started contacting leaders like Brij Mohan Bhama who had helped her to win in 1998 but no one came forward. The defeat now has left her gasping for breath. It is unlikely that she will be able to make a comeback in politics. For her, the innings is over and though her name will remain in the history books, not many will remember her after, say, two or three years.