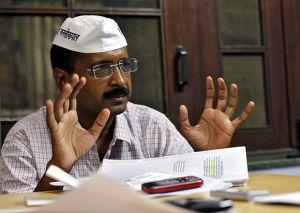 Aam Aadmi Party on Monday filed a criminal defamation complaint in a Delhi court against the CEO of news portal "Media Sarkar" for releasing a "doctored" video allegedly showing some AAP candidates accepting funds through illegal means.
Besides Anuranjan Jha, CEO of Media Sarkar, the AAP has also named two officials of a private news channel as accused saying they constantly carried the story based on the alleged sting operation without verifying its "veracity".
The plea, which was filed by the AAP and Dinesh Mohania who is contesting the upcoming Delhi assembly polls from Sangam Vihar constituency on AAP's ticket and was shown in the sting operation, is expected to come up for hearing on November 27.
In its plea, AAP claimed Jha had released the "edited CD" which "appears to be doctored" and it was damaging for the party as it lowers their image in the eyes of general public.
"Although even the edited version of the CD which has been released to media by accused number one (Jha) failed to show any of those (party's) candidates doing anything illegal or accepting black money for the party, promising anything which is illegal or unethical, still the CD released by accused number one projects AAP in its commentary as a corrupt political party whose candidates are ready to accept donation in cash without giving receipt....," it said.
It claimed the news portal released a 48-minute video on November 21 containing "so-called sting operations" done by its reporters on eight AAP members, including seven of its candidates.
The sting operation alleged several AAP leaders, who were contacted for their help in helping recover money from some individuals and getting through some controversial land deals, readily agreed to extend their support in return for donations in cash to the party.
The charges have been dismissed as baseless by the AAP.