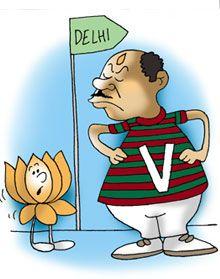 A Vijay could be blocking the BJP's path to vijay in Delhi, it seems. Illustration: Uttam Ghosh
The Bharatiya Janata Party is desperate to win the assembly polls in New Delhi, but not everyone in the party is sure if it will.
A noted astrologer has reportedly said that a 'Vijay' is blocking the party's path to vijay(victory).
The BJP recently downgraded one of its three Vijays in the national capital when Vijay Goel's claim to be its chief ministerial candidate was set aside in favour of Dr Harsh Vardhan.
Veteran Vijay Kumar Malhotra may be busy campaigning, but he is not a contender for the coveted post of Delhi chief minister.
There is another Vijay -- Vijay Sharma, the BJP's organisation secretary supervising the Delhi elections and who is much admired for his, well, organisational skills.
The astrologer's prophecy will face a final test on December 8, when the voters's verdict will become known.