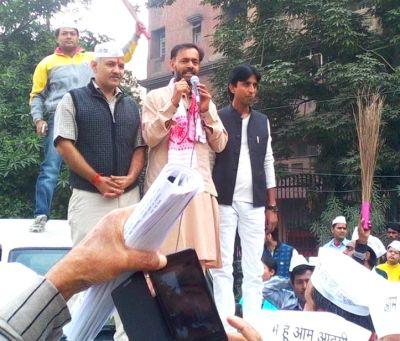 Embarrassed by a sting operation purportedly showing senior leaders "raising funds through illegal means," the Aam Aadmi Party on Friday said it has formed a committee to probe the matter and is mulling legal action against the web portal.
The Kejriwal-led party has called an emergency meeting and formed a committee, which include Political Affairs Committee members Yogendra Yadva and Sanjay Singh to probe the matter.
The PAC of AAP has decided to review the evidence presented to the public and take a decision on this issue within the next 24 hours.
A sting operation, conducted by web portal Media Sarkar, alleged that several leaders of AAP, including party's candidate from R K Puram assembly constituency Shazia Ilmi and Kumar Vishwas, who were contacted for their help in recovery of money from individuals and getting land deals done, readily agreed to extend their support in return for donations in cash to AAP.
Ilmi had offered to withdraw her candidature from the Delhi Assembly elections after the sting operation. AAP convener Arvind Kejriwal has dismissed the sting operation as a "conspiracy" against his party but said it will not compromise on the issue of corruption.
It said the web portal has refused to provide unedited raw footage to the party. "We had yesterday asked Media Sarkar to provide the unedited footage of the sting operation, so that we can go through it and decide appropriate action, but they have refused to provide us the raw video," Kejriwal had said.
"Until we go through the raw footage, how can we decide," he had asked. According to sources, facing attack from all sides over the sting, the party is also mulling legal recourse and if needed, will move the court against the portal.
The PAC has requested everyone named in the CD to present their version.
The party in a statement had said that "AAP had entered the electoral arena with a mission to clean politics. The party has come into being on the basis of a popular movement against corruption. It is committed to upholding the highest values in public life."
AAP has assured the electors of Delhi that if there is any credible evidence of corruption, criminality or dubious character against any of its 70 candidates, the party shall withdraw its support to that candidate even if we have to leave the seat vacant, it said.
"AAP takes serious view of these allegations. We have been the target of a spate of allegations in the last one week or so. The timing and nature of these allegations suggest that these are motivated. It is not surprising that a party that seeks to redefine moral standards in politics is being collectively targeted by powerful vested interests, including the big parties, some corrupt sections of the media and corporate," the statement said.
Nevertheless, AAP owes an explanation to the nation for every serious allegation, irrespective of its source or the motives, it said.
Image: AAP leaders Yogendra, Manish Sisodia and Kumar Vishwas campaigning in New Delhi
Photograph Courtesy: AAP's Facebook page